Taiwan's Export Slump Worsens as Second-Wave Fears Sap Demand
(Bloomberg) -- Taiwan's exports fell for a fourth straight month in June as officials warned global demand may struggle to recover in the face of a resurgent worldwide coronavirus outbreak and continuing trade tensions between the U.S. and China.
Overseas shipments from Taiwan fell 3.8% last month, according to a statement from Taiwan's Ministry of Finance Tuesday. That compares to the median estimate for a 3.7% drop in a survey of economists.
Imports plunged 8.6%, leaving a trade surplus of $4.8 billion.
Exports to Southeast Asia, Japan and Europe fell, while shipments to China and the U.S. continued to grow.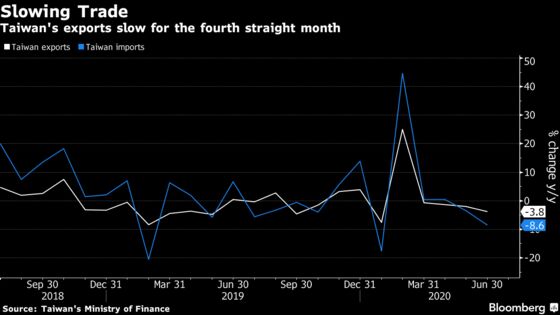 Taiwan's exports will "come under pressure" in the second half of the year due to a possible second wave of the global coronavirus outbreak and uncertainty surrounding the ongoing trade war between the U.S. and China, the Ministry of Finance said in a statement.
Full-year shipments would likely contract compared to 2019 due to the impact of the coronavirus on worldwide demand for Taiwanese products and low raw material prices, the finance ministry's statistics director Beatrice Tsai said at a briefing after the release of Tuesday's data.
Exports rose 0.5% in the first half of the year, the biggest gain among Asia's four "tiger economies", according to Tsai.
The ministry forecasts exports to shrink between 1.5% and 4% in July.
For now, there are signs Asia's major exporting economies are starting to recover from the impact of the coronavirus. While still contracting, the purchasing managers indexes for Japan, South Korea, Taiwan and Indonesia improved in June. Factory output in Vietnam and Malaysia grew.
The finance ministry had previously forecast June exports would shrink between 2% and 5%, leading to a decline in shipments for the second quarter.
Bond traders in Taiwan remain confident the island will be one of the few developed economies in the world to avoid a recession this year. They see gross domestic product expanding between 1% and 2% this year, according to a recent Bloomberg survey.
The central bank delivered a bullish outlook for Taiwan's economy, saying the worst of the coronavirus damage is over, after it decided to keep borrowing costs on hold at its quarterly board meeting last month.
"As the outbreak improves in Europe and China, demand for equipment needed to maintain social distancing may weaken but as the situation in the U.S. is still severe, we forecast demand from there to remain strong," Richard Tai, an economist at Cathay Securities Investment Trust Co. Said via phone. "Exports of electronics will likely continue to be strong in the second half of the year but maybe not as strong as in the first half."