Taiwan Raises GDP Forecast on Better-Than-Expected Exports
Taiwan raised its forecast for growth this year as stronger-than-expected international demand for technology products shielded the economy from the global slowdown fueled by Covid-19.
Gross domestic product will likely expand 2.54% in 2020, the statistics bureau said Friday, an increase of almost a percentage point over its most recent forecast of 1.56% made in August.
Third-quarter GDP was revised higher to 3.92%, the fastest pace since the fourth quarter of 2016.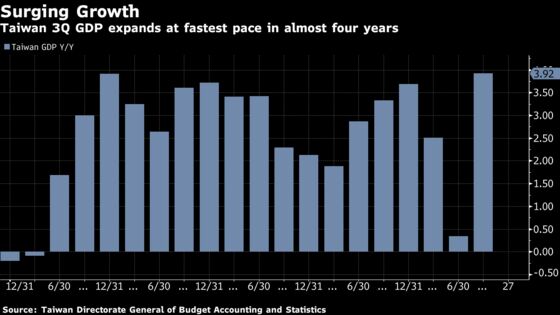 Robust exports, a gradual rebound in domestic demand and improved investment were the main reasons the government GDP reading jumped from last month's 3.33%, according to Natixis economist Gary Ng. He upgraded his full-year growth forecast to 2.5% Friday.

"Taiwan's technology exports have been very strong throughout this year," Ng said in a telephone interview. "There won't be any major changes on that front in the fourth quarter."

The upward revision to 2020's GDP forecast was due to better-than-expected exports, statistics bureau's deputy director Tsai Yu-tai said at a briefing following the release of Friday's data.

Third-quarter exports were $6 billion higher than the government's previous forecast: Tsai

Initial signs are that the surge in exports is continuing in the fourth quarter. Taiwan's overseas shipments grew 11.2% from a year earlier to a record monthly high of $32.2 billion in October. The delayed launch of Apple Inc.'s iPhone 12 helped boost last month's exports, according to officials. The Ministry of Finance's chief statistician forecast earlier this month that November exports will likely gain between 5% and 8% on year.
Taiwanese businesses with facilities in China will likely invest NT$342.5 billion in Taiwan next year, statistics chief Chu Tzer-ming said, citing an economics ministry forecast. He added that subtracting the companies' forecasted expenditures on imports and other factors, almost NT$90 billion of the investment will contribute to GDP.
The National Development Council's Monitoring Indicator, an index of forward-looking economic signals, rose to 28 in October, its highest level since May 2018.
Taiwan has seen industries initially affected by the coronavirus outbreak, such as traditional manufacturing and hospitality, rebound in recent months. Domestic demand has been bolstered by vouchers issued by the government in an effort to stimulate domestic consumption.
The statistics bureau revised down its forecasts for 2021 GDP growth to 3.82% from 3.92% and 2021 exports to 4.59% from 6.6%.
Much of Taiwan's strong exports are being driven by stellar growth at Taiwan Semiconductor Manufacturing Co., the island's biggest company. The contract chipmaker's revenue has risen more than 27% this year as of the end of October, helped by Huawei Technologies Co.'s hoarding of semiconductors before U.S. restrictions against sales to the company came into effect in September.