Taiwan Keeps Key Rate Unchanged as Focus Shifts to Fed Move
(Bloomberg) -- Taiwan's central bank kept borrowing costs at a record low Thursday but said that it would hike rates in 2022 after the U.S. Federal Reserve signaled a hawkish shift.
The benchmark interest rate was left at 1.125%, as predicted by all 25 economists in a Bloomberg survey. The central bank raised its forecasts for economic growth and inflation for this year and next, and said it would adjust monetary policy in a "timely manner" if needed given uncertainties in global inflation.
"Monetary policy is moderately loose now, but it will definitely move toward tightening next year," Governor Yang Chin-long said at a briefing after the decision, adding that the timing of a hike is flexible. The bank decided to stay on hold this time because the economy is not overheating and there are uncertainties in the outlook, Yang said.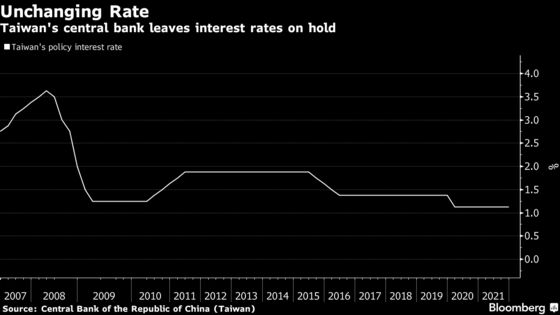 Taiwan's announcement came after Fed Chair Jerome Powell laid out a road map for a series of interest-rate increases over the coming years, starting with three hikes in 2022. He also warned that inflation is now enemy No. 1 to keeping the U.S. economic expansion on track and returning the labor market to something approaching its pre-pandemic levels. 
Yang took a much less aggressive stance than the Fed, saying that he hadn't decided if the first hike would be 25 basis points in one go or not. 
| Raised Forecasts | Old | New |
| --- | --- | --- |
| 2021 GDP | 5.75% | 6.03% |
| 2022 GDP | 3.45% | 4.03% |
| 2021 CPI | 1.70% | 1.97% |
| 2022 CPI | 0.92% | 1.59% |
While Taiwan's policy makers share Powell's concerns over prices, a strong currency is likely to outweigh all other concerns for the time being. Yang has said repeatedly in recent months that if Taiwan were to raise rates before the major economies, it would trigger an influx of capital into Taiwan, exacerbating the upward pressure on the currency. 
Consumer inflation is rising this year due to supply side issues and a reaction to falling prices last year, Yang said, arguing that the effect would be "transitory" and it was unlikely prices would rise in Taiwan as fast as they have in the U.S.  
"We had expected the Governor to keep downplaying inflation risks, so today's comments were in line with our expectation," said Angela Hsieh, economist at Barclays Plc economists in Singapore. However, inflation will likely be higher than the central bank expects and it may last for longer, she said. 
Taiwan's nominal effective exchange rate has hit multiple record highs this year and the exchange rate to the U.S. dollar has consistently hovered close to a 24-year high. Even so, exports have soared all year and hit a record $41.5 billion last month, and the central bank expects both exports and private investment to continue to increase moderately in 2022.
Economists see the monetary authority bowing to the pressure to tighten eventually. Most foresee the bank raising borrowing costs twice in 2022, with one 12.5 basis-point hike to 1.25% in the third quarter of next year, according to the median estimate in a Bloomberg survey of 20 economists. The benchmark rate will then likely be raised again to 1.375% in the fourth quarter.
Although it kept the main policy tool on hold, the central bank did tighten limits on property loans by banks in an attempt to curb rising home prices. Under the new rules, mortgages can only cover 40% of the value of a high-priced apartment or a third home, and loans for land or idle space at industrial parks were also capped.