Taiwan Keeps Record Low Interest Rate for Fourth Straight Quarter
(Bloomberg) -- Taiwan's economy will grow faster this year than earlier expected but it isn't overheating, according to the central bank, which kept its key lending rate at a record low for a fourth-straight quarter.
Policymakers left the benchmark rate at 1.125%, according to a statement Thursday. The central bank also raised its economic growth estimate for this year to 4.53% from the 3.68% it forecast in December, while revising its CPI forecast for the year to 1.07% from 0.92%.
The economy is growing in a "stable and healthy" manner and is not overheating, Governor Yang Chin-long said in a Thursday press conference following the rate decision. Any decision on raising interest rate would depend on factors such as domestic inflation and rates in the U.S., he said.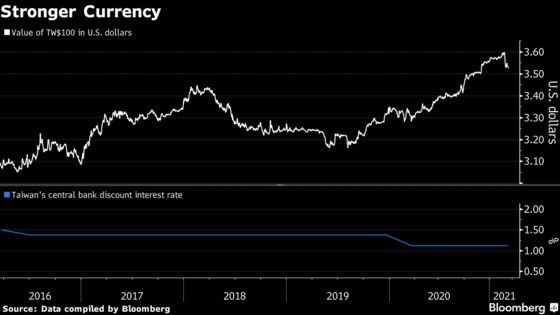 Inflation should peak in the second quarter due to its low base compared with the same period last year, the bank said in a statement. The decision came as questions mount about how long the central bank can continue its expensive policy of slowing gains in the currency.
The strength of the Taiwan dollar has posed a challenge to the central bank's policy of intervening to "smooth" sudden gains or losses. Last year, the currency appreciated more than 6% versus the U.S. dollar, the third-biggest gain among Asian peers after the Chinese yuan and the Korean won, with the monetary authority regularly stepping in late in the day to minimize the increases.
That kind of smoothing is a kind of intervention in the foreign exchange markets, Yang told reporters.
A resurgent U.S. dollar in the first few months of this year eased the pressure on the central bank for the time being. However, that may be only a temporary reprise as the fundamental upward pressures on the currency remain, such as robust economic growth, comparatively high interest rates and unprecedented overseas demand for Taiwan's technology exports. The Taiwan dollar is forecast to strengthen beyond NT$28 to the greenback in the second quarter of this year, according to a Bloomberg survey.
The strength of the currency presents a dilemma for the central bank. Governor Yang conceded last week that his agency's large interventions in foreign-exchange markets in the latter half of 2020, in addition to Taiwan's high trade and current-account surpluses, could land the island on the U.S. Treasury's list of currency manipulators.
However, he played down the likelihood of any negative impact, arguing that Taiwan's surplus is due to strong demand from American companies for semiconductors, rather than any perceived unfair advantage Taiwan gained from its currency intervention.
In its Thursday statement the bank said it expected capacity expenditures by tech companies to maintain private investment momentum in Taiwan, while also sounding the alarm that the ongoing water shortage "could affect normal economic activity", without offering further details.