Taiwan Is Running Out of Friends Fast as China Turns the Screws
(Bloomberg) -- Taiwan's loss of a second diplomatic ally in less than a month suggests China's efforts to isolate the island are accelerating.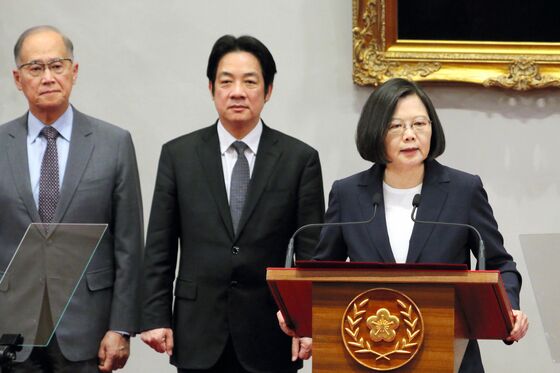 The West African nation of Burkina Faso broke off formal relations with Taipei in favor of Beijing on Thursday, reducing to 18 the number of countries that recognize Taiwan, formally known as the Republic of China. The setback -- coming just four weeks after the Dominican Republic did the same -- puts Taiwan's fragile diplomatic position into focus as the rift with Beijing escalates.
In a statement posted on Twitter late Thursday, President Tsai Ing-wen reaffirmed her shift from competing for formal diplomatic bonds with an increasingly wealthy China and concentrating her energy on unofficial ties with larger, more influential countries, such as the U.S.
"Today #China led #BurkinaFaso to sever diplomatic relations w/ #Taiwan," Tsai wrote. "It will only bring Taiwan closer to countries that share our values: #democracy & #freedom. It will only strengthen our resolve to look towards the world, rather than across the Strait."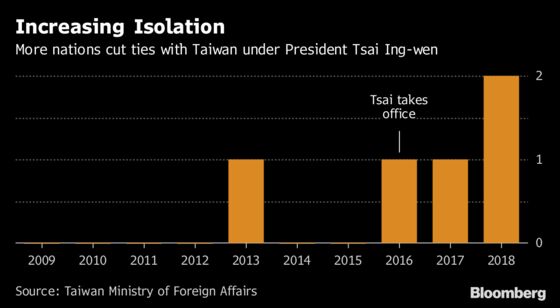 Beijing and Taipei have been competing for diplomatic recognition since 1949, when Nationalist leader Chiang Kai-shek's flight to Taiwan established a stalemate with each side claiming to be the legitimate ruler of China. Still, the Communist Party refrained from wooing any of the island's allies under former President Ma Ying-jeou, who favored closer economic ties with Beijing.
That detente ended when Tsai -- whose Democratic Progressive Party supports independence from China -- took office in May 2016 and refused to accept Ma's framework for negotiating with Beijing. Since then, China has established ties with five of Taiwan's partners, also including Gambia, Panama and Sao Tome and Principe.
Julian Ku, a professor of constitutional law at Hofstra University, warned that China's increased efforts to isolate Taiwan could push the island to formalize its independence.
"Taiwan going to zero allies is not in Beijing's interest," he said in an email. "Those diplomatic allies recognized Taiwan as the 'Republic of China,' which is better from Beijing's perspective than a move to recognize Taiwan as the 'Republic of Taiwan.'"