Taiwan Factories Shrug Off Covid as Exports Surge to Record
(Bloomberg) -- Supply Lines is a daily newsletter that tracks trade and supply chains disrupted by the pandemic. Sign up here.
A Covid-19 outbreak, a drought and power outages did little to dent Taiwan's runaway export growth in May as factories kept running at full capacity to keep up with demand from overseas.
Exports increased 38.6% last month from a year earlier to a record $37.4 billion, according to a statement Tuesday from Taiwan's Ministry of Finance. Imports rose 40.9% to $31.3 billion while the trade surplus was largely steady at $6.2 billion.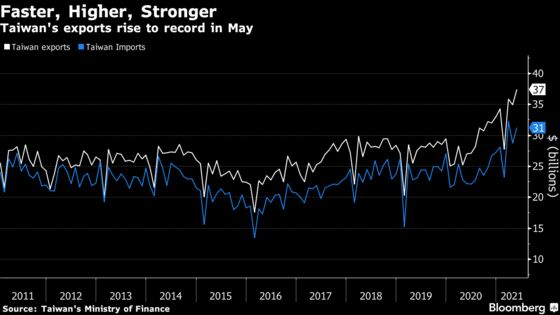 The data shows there's no pullback in sight in the surging demand for Taiwan's computer chips and other goods, with exports to Europe, South Korea and Southeast Asia all up more than 50% compared to a year earlier. In the longer term, plans to overhaul U.S. infrastructure will benefit Taiwan's steel, plastics, telecommunications equipment and semiconductor industries, according to the government.
Exports for June are likely to rise between 27% and 31%, the finance ministry's chief statistician Beatrice Tsai said at a briefing Tuesday.
Read more: Taiwan May Exports Breakdown By Product
The island's factories have been running their production lines almost nonstop in recent months on an influx of orders from overseas, with the IHS Markit manufacturing purchasing managers' index at 62 in May, well above the 50 level that signals expansion.
That was despite the multiple headwinds during the month.
The government imposed widespread restrictions in an effort to slow the spread of a Covid-19 outbreak, shutting schools and recreational facilities and urging companies to allow staff to work from home. The worst drought in a century limited water supply to much of central and southern parts of Taiwan, although the major science parks, homes to chipmakers and other advanced manufacturing, were spared from the restrictions.
The power supply was another concern. Higher-than-expected consumption from manufacturers, unseasonably warm weather and a lack of hydropower triggered two island-wide blackouts that affected more than 4 million households and nearly half of Taiwan's 62 industrial parks.
Surging demand for raw materials has also led to shortages which in turn has led to the fastest increase in factory-gate prices since data collection began in 2004, as companies passed on their higher costs to clients, IHS Markit wrote in its report.