Asian Trade Is Still Slowing Even With the China-U.S. Truce
(Bloomberg) -- Go inside the global economy with Stephanie Flanders in her new podcast, Stephanomics. Subscribe via Pocket Cast or iTunes.
Two of the earliest indicators for Asian trade continued pointing down in April, undercutting hopes for a rebound even as the U.S. and China look to be headed toward an settlement of the dispute which has weighed on sentiment.
Korean exports dropped 8.7 percent in the first 20 days of April compared to the same period last year. Taiwan's March export orders declined more than forecast and are expected to continue falling this month, according to a separate release.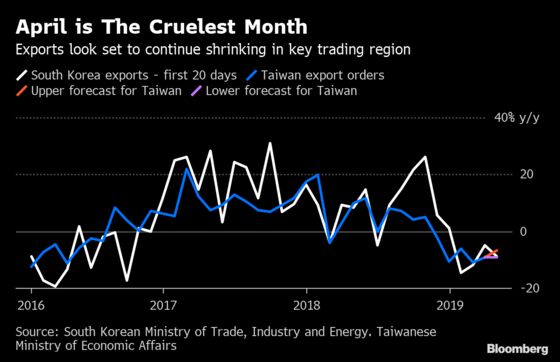 Global finance chiefs ended talks in Washington this month mixing concern toward the current state of the world economy with confidence that it will soon rebound. The shift away from tighter monetary policy by central banks, recent stimulus in China and easing trade tensions were hailed as reasons to hope the slowdown will prove short-lived.
There has also been signs of life in Bloomberg's global trade check up, with Hong Kong and Singapore ports figures rebounding in March.
However, the continued weakness in Chinese imports is weighing on the regional outlook. While China's economy was stronger than expected in the first quarter, that's not translating into increased demand for foreign goods. Chinese imports have fallen in the four months through March.
South Korean exports to China dropped 12 percent in the first 20 days of April. Shipments to Hong Kong and the mainland from Taiwan declined almost 14 percent in March from a year earlier.
Sinking demand and prices for semiconductors look set to pull South Korea's exports into the red for a fifth straight month in April, as the nation's export-dependent economy loses steam. Semiconductor shipments, which account for about a fifth of the nation's exports, fell 25 percent during the first 20 days of April.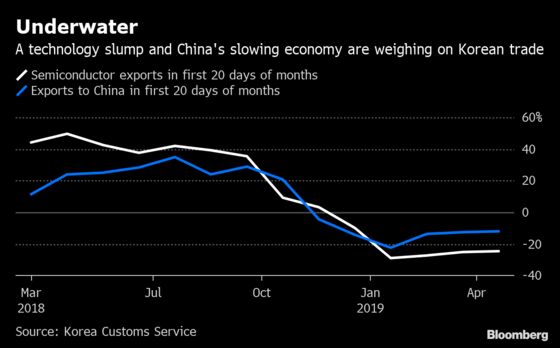 The Bank of Korea last week lowered its 2019 forecasts for economic growth and inflation. Governor Lee Ju-yeol blamed weakening exports, particularly of semiconductors, but said exports and capital spending would likely improve in the second half of the year.
In Taiwan, foreign orders for electronics or electrical products both dropped more than 10 percent in March.