Sizzling Demand Drives Asian Dollar Bond Orders to 15-Month High
(Bloomberg) -- Demand for Asia's offshore bond deals soared in June as investors lapped up offerings from a Philippine telecommunications firm to Thailand's biggest oil driller.
Orders for fresh offerings from the region excluding Japan surged to 6.1 times their issuance size last month, Bloomberg-compiled data using available deal statistics show. That's the highest subscription ratio since March 2019. The rebound was led by Asian borrowers outside of Japan and China, the data show.
Offshore bond sales in Asia have rebounded from a March rout when issuance all but dried up, after liquidity support from central banks helped lower borrowing costs of corporate notes. Companies from the region excluding Japan also sold about $38 billion bonds last month, the most since January, data compiled by Bloomberg show.
Demand for Asian notes has not been universal, with credits from Thailand and the Philippines drawing strong orders recently, according to Raymond Chia, head of credit research for Asia-excluding Japan at Schroder Investment Management.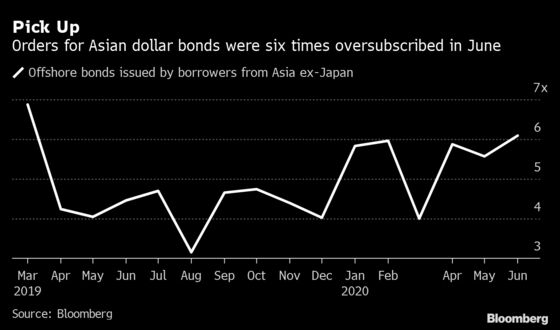 "Specifically, demand for blue chip, high-yield Philippine issuers and selected Chinese investment-grade companies boosted orders for Asia's offshore bonds in June," Chia said.
Orders for Philippine telecommunications company PLDT Inc.'s $600 million dual-tranche offering were more than 17 times the issuance size, while Thai oil firm PTT Exploration & Production Pcl secured more than $7.4 billion orders for its $500 million bond, according to people familiar with the deals, who are not authorized to speak publicly.
Chinese offshore bonds sold last month were 5.8 times oversubscribed, a two-month high, while orders for bonds from Asia excluding Japan and China reached 6.4 times their issuance size, the highest subscription ratio since March 2019, the data show.
Asia's primary market roared into action Monday with a flood of issuers kicking off deals in one of the busiest days of the year. Among them, nine Chinese borrowers were marketing offshore bonds or announcing roadshows.
"We expect U.S. dollar investment grade credits to continue to perform well in July and demand/supply will be more balanced in the second half," said Linan Liu, head of Greater China macro strategy at Deutsche Bank AG.