Short-Dated Bond Spree by China Builders Flashes 'Systemic Risk'
(Bloomberg) -- China's property developers are rushing to sell short-term dollar bonds ahead of record debt maturities next year, a move that analysts say would add to more refinancing pressure down the road.
Three issuers came to the market on Monday alone. Times China Holdings Ltd. is in the process of book building for a two-year bond with initial price guidance at 11 percent, while Greenland Holding Group Company Ltd. is taking bids for 1.5-year notes at low 9 percent area, people familiar with the matter said. A unit of China Evergrande Group is marketing a tap of existing notes due in 2020.
Chinese developers have been caught in a tightening funding squeeze due to a deleveraging push by policy makers over the past two years. To make things worse, the sector is facing a record $62 billion of bonds due in both onshore and offshore markets in 2019, according to Bloomberg-compiled data. In this backdrop developers have had to offer higher premiums to investors even to sell shorter maturity dollar bonds.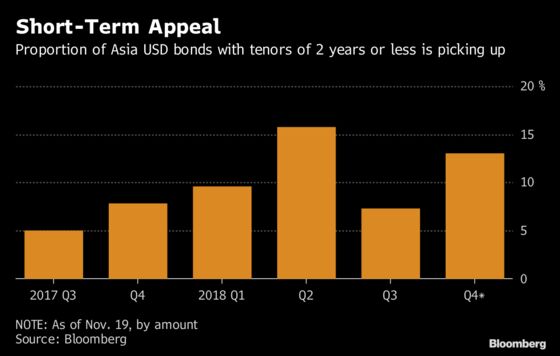 Read more about falling bond prices for Chinese builders here
The growing reliance on short-dated issuance increases "systemic risk in the form of larger maturity walls that will need to be refinanced," according to Paul Lukaszewski, head of Asian corporate debt & emerging market credit research at Aberdeen Standard Investments.
"If the trend toward shorter dated issuance continues, we would not be surprised to see Chinese regulators intervene again much like we saw earlier this year with regards to 364-day issuance," he said.
China's developers are paying the highest coupons among dollar issuers in Asia. The domestic unit of China Evergrande last month sold a five-year note at a coupon rate of 13.75 percent, the third highest for an Asian junk bond issued this year.
Notes from Chinese property developers offer investors lower credit protection. The score according to Moody's investor services hit the weakest last quarter.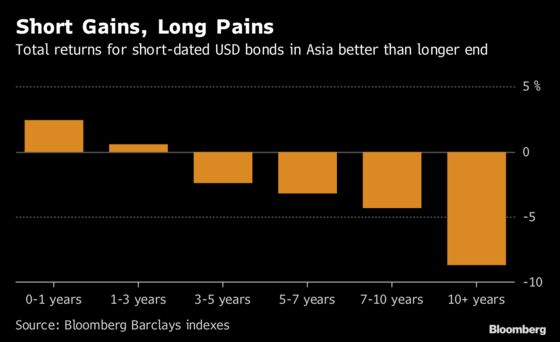 China slowed approvals for offshore bonds and weighed banning dollar note issuance with tenor of less than a year, people familiar with the matter said in June. Although authorities have rolled out measures to ease funding for private firms lately, the existing property control policies won't loosen, the official Xinhua New Agency said in a commentary last month.
Chinese homebuilders are likely to face more difficult market conditions in 2019, with slowing economic growth and deteriorating sentiment likely to drag down sales volumes and stifle gains in home prices, according to Fitch Ratings. The rater expects sales volumes to fall by 5-10 percent next year, following low-single-digit gains in 2018.
Builders are rushing to issue dollar notes before their regulatory quotas expire, according to Yin Chin Cheong, analyst at CreditSights.