China Junk Bonds Sink on Wider Payment Stress: Evergrande Update
(Bloomberg) -- China's heavily leveraged property firms saw their stocks and bonds tumble after a failure by developer Fantasia Holdings Group Co. to repay notes deepened investor concerns about the sector's outlook.
China's dollar junk bonds fell about 4 cents, according to traders, set for the worst drop since at least 2013. Developer Sinic Holdings Group Co.'s long-term issuer default rating was cut to C from CCC by Fitch Ratings, adding to the gloom. The Hang Seng Properties Index dropped as much as 2.2% on Tuesday after last week's rebound.
Troubles at Fantasia contribute to signs that stress is rising in China's property sector, where lower-rated developers face a surge in bond yields to a decade high. Uncertainty over the full extent of China Evergrande Group's debt load, beyond its more than $300 billion reported in liabilities, has plagued investors since a liquidity crisis at the firm stoked fears of a collapse that could trigger financial and economic contagion.
Fantasia itself poses fewer risks to broader markets than Evergrande due to its smaller size. It ranked 60th in a list of contracted sales in the first quarter of this year versus third for Evergrande. Fantasia's total liabilities were $12.9 billion as of June 30, according to the company's first-half report, compared with $304.5 billion for Evergrande.
Chinese Property Developer Fantasia Misses Debt Payments
China Dollar Junk Bonds Set for Worst Drop Since at Least 2013
Developers Face $5.2 Billion Debt Test: What to Watch in China
Evergrande, Property Management Unit Suspend Hong Kong Trading
Nervy Markets Await Outcome for Opaque Bond Tied to Evergrande
China Steps Up Efforts to Ring-Fence Evergrande, Not to Save it
China Builder Sinic Faces Creditor Demanding $75 Million Payment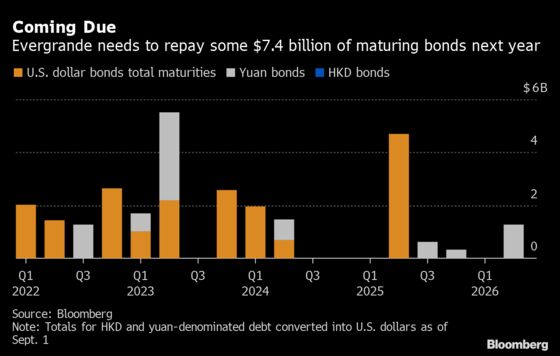 Sunac Shares Tumble Before Bond Payment Due (10:36 a.m. HK) 
Shares of Sunac China Holdings Ltd. dropped as much as 13% on Tuesday. The Hong Kong-listed real estate firm is due to pay almost $100 million in bond coupons this month, with the first one on Oct. 11, according to data compiled by Bloomberg. The developer's bonds have fallen to record lows after a letter circulated among traders last month showing Sunac asking local authorities for support. Sunac has denied it submitted the request.
Evergrande Won't Hurt China Local Government Credit: S&P (9:41 a.m. HK)
Evergrande's likely default won't hurt the credit profiles on China's local governments, S&P Global Ratings said in a report. While the developer's outstanding debt is vast, its troubles are unlikely to pose contagion risk at the local government level, nor to significantly undermine social stability, it said.
Evergrande Shares to Stay Suspended (9:25 a.m. HK)
Evergrande had yet to disclose details of the "major transaction" as of 9 a.m. Tuesday. That means the stock, and that of its property services unit, will remain suspended for the morning session at least, according to Hong Kong exchange rules. Evergrande shares could resume trading in the afternoon if a statement is published during the one-hour lunch break.
Singapore Banks' Loans to Evergrande Insignificant: MAS (7:56 a.m. HK)
Singapore banks' loans to Evergrande are insignificant and their exposure to the Chinese property sector isn't large, said Tharman Shanmugaratnam, senior minister and minister in charge of the Monetary Authority of Singapore.
Direct exposures to Chinese property are less than 1% of non-bank loans while those to Singapore property developers with operations in China are a further 2.5% of loans to non-bank customers, Shanmugaratnam said in reply to parliamentary questions on Monday.
Fantasia Holdings Skips Bond Payment Due Monday (10:40 a.m. NY)
Chinese developer Fantasia Holdings Group Co. said it hasn't repaid a $205.7 million bond due Monday, intensifying investor concerns about the developer's financial health. The company's management and board "will assess the potential impact on the financial condition and cash position of the Group" stemming from the skipped payment, according to a statement Monday.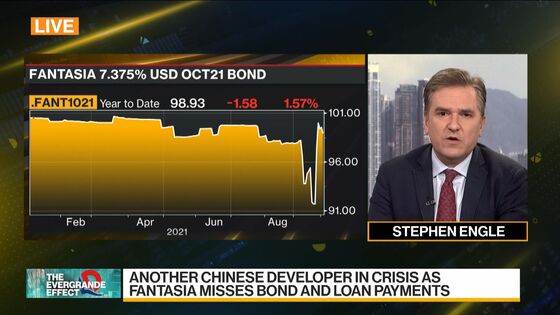 Fantasia Dollar Bonds Plummet Ahead of Maturity (5:12 p.m.)
Fantasia's dollar bonds are plummeting as the company inches closer to a $208.2 million debt repayment deadline Monday. As uncertainty over the future of Evergrande weighs on credit markets, dramatic declines in Fantasia's dollar bonds maturing later this year suggest rising concern over its capacity to service even its short-term debts.  
Evergrande NEV Jumps 29% in Hong Kong (4:10 p.m.)
Trading continues in the developer's vehicle unit, China Evergrande New Energy Vehicle Group Ltd. on Monday, with the stock closing up 29%, its biggest gain since Sept. 29.
Hopson's Chu May Become Latest Tycoon to Bolster Evergrande (12:37 p.m.)
Another billionaire tycoon appears poised to come to the aid of embattled Evergrande. 
The Chu family control Hopson Development and could become the latest wealthy family to help shore up finances for Evergrande, after Hopson reportedly agreed to buy a controlling stake in its property services business, according to Cailian. Chu Mang Yee is described as an "invisible magnate" by Chinese media.
Hopson Development Plans Evergrande Property Stake (11:53 a.m.)
Hopson Development plans to acquire a 51% stake in Evergrande Property Services, Cailian reported, citing unidentified people. That would give the management unit a valuation of more than HK$40 billion, Cailian said in an amended story. Hong Kong trading in Evergrande Property Services shares was suspended on Monday along with those of its parent. 
Hopson Development's USD Bonds Tumble (11:35 a.m.)
Hopson Development's dollar notes are set for their biggest losses on record Monday after Cailian reported the firm plans to acquire a 51% stake in Evergrande Property Services. The company's 6.8% dollar bond due 2023 sank 4.9 cents on the dollar to 90.2 cents, Bloomberg-compiled prices showed. The firm's 7% note due 2024 declined 5 cents to 89.2 cents.
China Builder Sinic Faces Creditor Demanding $75 Million Payment (10:24 a.m.)
Amid heightened scrutiny on Chinese property firms as Evergrande contagion fears ripple through the sector, Sinic Holdings Group Co. received a demand to repay some debt after missing two local interest payments.
A creditor of the Chinese developer is demanding repayment of $75.4 million in outstanding principal and accrued interest, after the firm failed to repay 38.7 million yuan ($6 million) of interest on two onshore financing arrangements on Sept. 18, according to a Hong Kong stock exchange filing dated Sept. 30.
Evergrande dollar bond interest deadlines:
Dollar bonds 
Coupon due date

Amount

(million dollars)

EVERRE 8.25% due 2022
Sept. 23
83.53
EVERRE 9.5% due 2024
Sept. 29
45.17
EVERRE 9.5% due 2022
Oct. 11
68.88
EVERRE 10% due 2023
Oct. 11
42.5
EVERRE 10.5% due 2024
Oct. 11
36.75