Seven China Local Govt Financial Vehicles Downgraded by S&P
(Bloomberg) -- S&P Global Ratings lowered its credit ratings by one notch on seven Chinese local government financing vehicles as it believes the likelihood of local government support "could weaken over time."
The firm said Wednesday morning the rating moves also reflected the gradual weakening of those financing platforms' roles and links with their local-government parents. Moody's Investors Service also cut its scores on five LGFVs on Wednesday afternoon as it sees "reduced likelihood of support for the sector as a whole." Fitch Ratings took similar actions in June.
China has repeatedly said LGFVs must take responsibility to repay their own debts. Yet, the rhetoric has moderated recently as China tries to support the economy amid trade tensions with the U.S. A State Council meeting in July urged financial institutions to ensure reasonable borrowing demand from LGFVs. Last month, Xinjiang Production Construction 6th Shi State-owned Assets Management, a cotton trader with features similar to local government funding platforms, missed payment on a bond, only to fully repay two days later.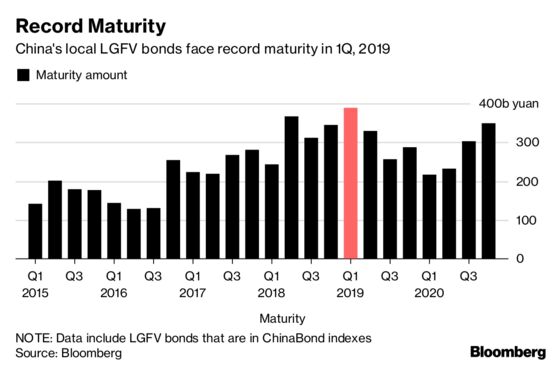 The rating actions also come amid a looming debt maturity wall for LGFVs. Domestic maturities average 340 billion yuan ($49.5 billion) each quarter through to the April-June period of 2019, according to Bloomberg-compiled data. That's 40 percent higher than the average in 2017. The maturities will peak in the the first quarter next year, the data show.
Dollar bonds of the seven companies downgraded by S&P remained largely stable following the rating cuts, according to traders.
"The market reaction is muted so far, partly because a lot of the LGFV bonds are small in issue size and were most likely anchored by onshore investors during new issue stage," said Anne Zhang, executive director for fixed income, currencies and commodities at JPMorgan Private Bank in Asia. "LGFVs will likely get less government support and I expect more rating actions to come going forward."
S&P believes Chinese central government is making an effort to enforce a greater separation between local Chinese governments and their financing vehicles. "These reforms are part of a general focus on reducing financial risks and deleveraging the state-owned corporate sector, and include a crackdown on off-budget borrowing by local governments," S&P's analysts including Laura Li wrote in a report on Wednesday.
Here are the details of S&P's downgrades:
| | To | From |
| --- | --- | --- |
| Chongqing Nan'an | BBB/Stable/--  | BBB+/Stable/-- |
| Tianjin Binhai New Area  | BBB/Stable/-- | BBB+/Stable/-- |
| Tianjin Infrastructure  | BBB+/Stable/-- | A-/Stable/-- |
| Wuxi Construction   | BBB/Stable/-- | BBB+/Stable/-- |
| Yangzhou Urban    | BBB-/Stable/-- | BBB/Stable/-- |
| Changsha Pilot  | BB+/Stable/--  | BBB-/Stable/-- |
| Zhenjiang Transportation   | BB-/Negative/--      | BB/WatchNeg/-- |
The central government's policy initiatives over the past two years are aimed at limiting the ways in which support can be provided to government-related issuers owned by regional and local governments (RLGs), according to a Moody's report on Wednesday. It also reinforces the government's "desire to reduce leverage in the sector and contingent liabilities of RLGs, and its strong focus on reducing moral hazard over time."