China Mourns Death of Man Who Saved Millions From Hunger
(Bloomberg) -- The death of Yuan Longping, the Chinese agronomist known for using hybrid varieties to boost rice harvests during the Cultural Revolution era, has triggered an outpouring of tributes, including from President Xi Jinping.
Yuan, known as the "father of hybrid rice," died of organ failure on Saturday in a hospital in Changsha, the capital city of central Hunan Province, at the age of 91. A memorial service was held on Monday morning, state media reported.
His lifelong work to increase crop yields made him a household name in China, where memories of the Great Famine under Chairman Mao Zedong still linger. Large crowds showed up with flowers on Monday to bid farewell to Yuan, causing traffic gridlock miles long from the memorial site in Changsha.
Food security and self-sufficiency remain at the forefront of China's political agenda, especially ahead of the 100th anniversary of the founding of the communist party this year. Floods, epidemics and trade tensions have raised pressure on the government to safeguard food supply, with efforts ranging from boosting output and imports, to a campaign to reduce food waste.
Yuan "saved millions of people from hunger" and his legacy and mission live on, the United Nations' Department of Economic and Social Affairs said in a tweet. President Xi extended condolences to Yuan's family and affirmed the scientist's contribution to food security and world grain development.
Yuan cultivated the world's first commercially viable hybrid rice varieties in 1973, which were later grown on a large scale in China and other countries, and increased output substantially. Hybrid strains account for about half of rice planting in China, the world's largest producer. Chinese rice production has almost doubled in the past five decades.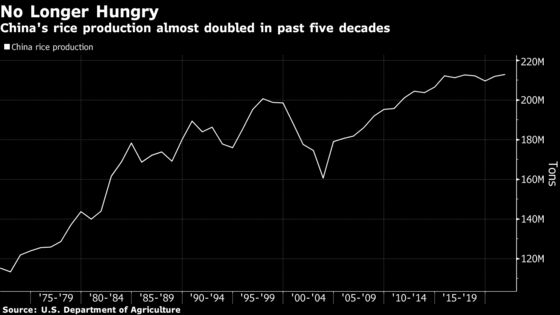 A new hybrid rice developed by Yuan's team produced an annual yield of over 1,500 kilograms per mu, or more than 20 tons per hectare, in two harvests last year. That compares with an average of 300 kilograms per mu in the 1970s.
Yuan is survived by his wife Deng Ze and three sons. One of them, Yuan Dingjiang, is vice chairman of Shenzhen-listed seed maker Yuan Longping High-Tech Agriculture Co., which is controlled by Chinese conglomerate CITIC Group. The shares surged by the 10% daily limit Monday before paring gains to 3.3%.