SARS-Like Virus Claims Second Life in China as Pneumonia Outbreak Widens
(Bloomberg) -- A second person died in central China after being infected with the new SARS-like virus that's sickened dozens of people in the city of Wuhan, while another traveler to Thailand was found to have the novel coronavirus.
A 69-year-old man died Wednesday at a hospital in Wuhan after a two-week illness that progressed to multi organ failure, the city's health commission said late Thursday. Thai health officials said Friday a 74-year-old visitor from China tested positive for the pneumonia-causing virus, the second case reported this week in the Southeast Asian country.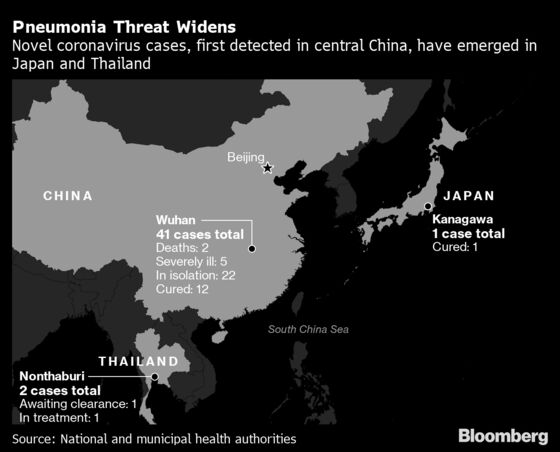 The infections, along with one in Japan reported Thursday, have heightened concern that the outbreak is spreading. The novel coronavirus has captured international attention because of similarities with the one that sparked Severe Acute Respiratory Syndrome, or SARS, 17 years ago.
Unlike SARS, which killed almost 800 people, the new virus doesn't appear to spread easily between people. Much remains to be understood about the new coronavirus, which was first identified in China earlier this month, the World Health Organization said in a statement Thursday.
"Not enough is known about 2019-nCoV to draw definitive conclusions about how it is transmitted, clinical features of disease, or the extent to which it has spread," the Geneva-based agency said. "The source also remains unknown."
Municipal health authorities in Wuhan, a city of 11 million people, have reported 41 cases of pneumonia caused by the 2019-nCoV virus. Twelve patients have been cured and discharged, five are being treated for severe illness, and two have died. The rest are being treated in isolation wards in hospitals around the city. No new cases have been detected in Wuhan since Jan. 3.
A man in his 30s, who lives in Kanagawa Prefecture, south of Tokyo, was hospitalized with pneumonia on Jan. 10 and discharged with a mild cough five days later, the Ministry of Health, Labor and Welfare said Thursday. Prior to returning to Japan on Jan. 6, he'd spent time with an infected person in Wuhan, and developed a fever on Jan. 3.
The latest case that emerged Friday in Thailand, like the previously reported one in the Southeast Asia country, is a Chinese visitor from Wuhan. Both had no contact with live animals, according to Suthat Chottanapund, director of the Bureau of Risk Communication & Health Behavior Development at the Department of Disease Control.
Both cases were identified through airport screenings, Suthat said, and rigorous diagnostics were used to identify the virus. Testing was done at two separate labs, with one specimen taking 24 hours, and gene sequencing was used to compare with what Chinese authorities have released.
"We're being cautious," Suthat said. "But we're very confident in our screening process and are following the international developments very closely."
The new patient is receiving treatment, officials said. The initial case, reported Monday, has been treated and is awaiting clearance to return home.