China's Local Government Vehicles Guarantee $1 Trillion in Debt
(Bloomberg) -- China's financing units for local governments, already grappling with bloated debts, now face an even bigger predicament -- a build-up of credit guarantees that leave them vulnerable to surging defaults.
Around 2,000 of these platforms, known as local government financing vehicles, have offered a total of 7 trillion yuan ($1 trillion) of guarantees to loans, bonds and shadow financing for domestic companies, said Lv Pin, an analyst at CITIC Securities Co. That surpasses the tally of LGFVs' own outstanding local bonds, Bloomberg-compiled data show. These guarantees help private companies get financing as banks prefer to lend to state-owned ones.
Such external obligations form part of the hidden debt in China's local governments, which S&P Global Ratings last month called "an iceberg with titanic credit risks." Much of the build-up relates to these financing units, which have been discouraged by authorities to get backing from local governments. While LGFVs have yet to default on their bonds, rising nonpayments by the firms they guarantee make them prone to contagion risks.
"Private firms are under a lot more pressure of going bankrupt than the big state-owned ones should China's economy slow down further," said Li Qilin, Beijing-based chief economist at Lianxun Securities Co. "As a result, LGFVs that extend guarantees face intensifying repayment pressure."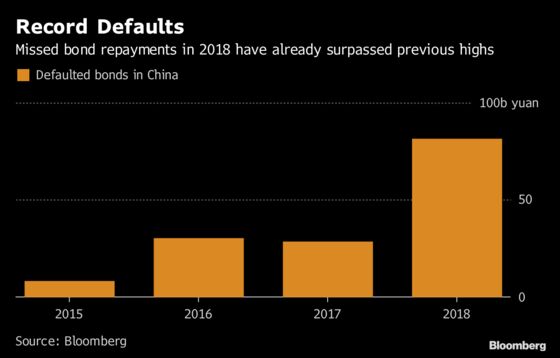 Li said he expects LGFVs to guarantee more debts from the private sector in the future given the recent push from the authorities to support non-state firms, which would lead to a broader scale of negative chain reactions.
Suffering from tight financing conditions induced by a government campaign to shrink shadow banking, Chinese corporations have reneged on 101 billion yuan of local bond payments this year, more than triple the full-year amount last year, Bloomberg-compiled data show. LGFVs themselves face a record 1.1 trillion yuan of onshore bond maturities next year, with the overall outstanding amount of 6.7 trillion yuan currently.
It's hard for investors to assess risks on companies that LGFVs guarantee and how those contingent liabilities will crystallize because of limited information available, according to Moody's Investors Service.
"The actual impact on individual LGFVs depends on the size of these guarantees relative to their financial profile and cash buffer of the relevant LGFVs," said Ivan Chung, an associate managing director at Moody's.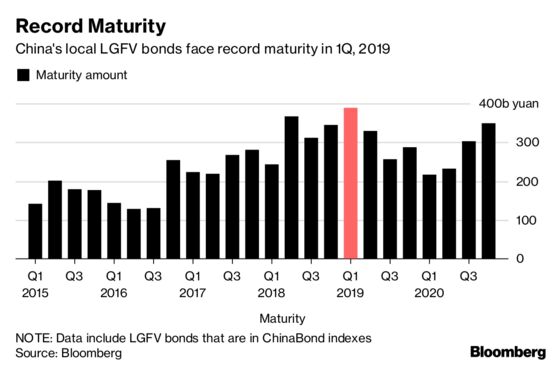 Data from CITIC Securities' Lv show the average guaranteed debt is about 22 percent of the net assets of the LGFV guarantors. In China, it is not just local government units vouching for corporations' debt. The companies themselves are backstopping each other's obligations in order to get bank loans, a phenomenon less familiar in global markets.
Cracks are starting to show in such guarantees. Tianchang City Construction Investment Development Co., a funding unit in the central province of Anhui, guaranteed a trust loan taken out by a private firm, which missed payment on the borrowing in June. The LGFV said in a bond document dated 2016 that it has guaranteed a "large amount" of debt, which has an impact on its own financial health.
For HFT Investment Management Co., all this means that credit risks are rising for LGFVs and their bond prices may have room to fall.
"We attach great importance to the debt guarantees provided by the LGFVs when doing investment analysis," said He Qian, portfolio manager from the Chinese asset manager. "We tend to shun those with lower ratings or with complicated financial conditions."