Record China Bond Failures Breathe Life Into CDS-Like Tool
(Bloomberg) -- Corporate debt investors navigating an expanding minefield of bond delinquencies in China are reaching for a hedging tool similar to credit-default swaps that was last used more than two years ago.
Since September, China Bond Insurance Co. and Bank of Hangzhou Co. have sold four instruments called credit risk mitigation warrants, which insure creditors against defaults of the underlying debt. These risk hedging instruments are set to become increasingly popular as bond failures pile up, according to Golden Credit Rating International Co.
Defaults have spiraled to a record 66.1 billion yuan ($9.5 billion) this year as China's deleveraging campaign bites and economic headwinds batter investor confidence. That's made raising funds without resorting to credit protection tougher for some companies. Last week, the biggest state bank threw a lifeline to cash-strapped private firms by expanding a debt-to-equity swap program.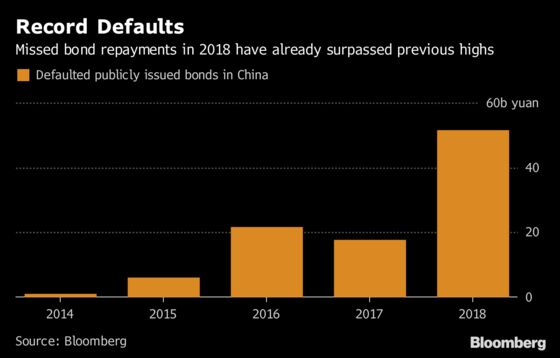 "Banks and other credit investors now see rising demand for risk mitigation tools, especially when regulators attempt to break away from bailing out debt defaulters since 2014," said Su Li, chief bond analyst from Golden Credit Rating. "They are expected to have greater prospects in China."
In 2010, Chinese authorities issued rules on credit risk mitigation warrants, with the National Association of Financial Market Institutional Investors saying at the time that products must focus on underlying debt. That's unlike CDS that was introduced in China in 2016, which provides protection against multiple debt failures of a certain borrower. Read more here
The People's Bank of China said Monday it will grant initial funding to financial institutions to offer credit risk mitigation tools and other credit enhancements that help companies in the private sector sell bonds. Over the weekend, President Xi Jinping vowed "unwavering" support for the country's struggling private sector.
"Investors may adjust risk appetite for private sector firms in the short run given such a slew of favorable policies, and big leading companies may get the benefit first," analysts from Guotai Junan Securities Co. including Qin Han wrote in a report on Wednesday. "But concerns remain over companies' profit prospects due to the economic slowdown and trade war."
The last time a CRMW was issued was in August 2016, when some Chinese companies defaulted amid government efforts to cut excess capacity. China Securities Co. issued a CRMW with a nominal principal of 800 million yuan. The underlying debt was Agricultural Bank of China Ltd.'s non-performing loan-backed security.
As a standardized tool, CRMW offers market participants a public process to determine pricing just like book-building for a bond. In contrast, CDS prices are set by negotiations between counter-parties, making the market less transparent.
So far 39 financial institutions and credit enhancement agencies have registered as "core traders" for credit risk hedging tools, which can make deals with non-financial firms, according to NAFMII. China's central bank plans to give 10 billion yuan to China Bond Insurance, one of the core traders, to provide credit support for debt sales by private enterprises, according to people familiar with the situation.
Corporate bonds by investment firm Zhejiang Rongsheng Holding Group Co., Taiyuan Iron & Steel (Group) Co. and cement maker Hongshi Holding Group Co. are the underlying debt of the latest four CRMW issues, according to disclosures filed to the National Association of Financial Market Institutional Investors. Notional principal of the four deals totaled 275 million yuan, public filings show.
Rongsheng and Hongshi are both AA+ rated non-state-owned companies located in the coastal Zhejiang province. When they sold short-term notes earlier this month, CRMWs were offered almost simultaneously by third parties to boost demand. As a result, Rongsheng managed to sell the securities at a coupon of 5.22 percent, while Hongshi issued at 4.96 percent, much lower than most of their similar new issues earlier this year.
"The underlying debts were generally less risky when such instruments first hit the market years ago, and therefore demand was very low," said Lv Pin, an analyst in Beijing at CITIC Securities Co. Now, more lower-rated firms may be covered by such risk tool in the future, he said.