A Green Bond Flop in China May Spur Demand for Better Terms
(Bloomberg) -- China's first so-called green exchangeable bond fell on its trading debut, which is likely to prompt investors to seek better terms for the innovative offerings in the future.
China Three Gorges Corp.'s 20 billion yuan ($3 billion) exchangeable bond slid 2 percent on Thursday. It is the first exchangeable note in China that fulfills the country's green bond standard, according to the company's website. The bonds rose briefly on Friday morning, before falling 0.05 percent as of 10:02 a.m. in Shanghai.
The market's reaction to China Three Gorges' note means future issuers may have to leave something on the table to ensure a good after-market performance.
"Investors would probably demand better terms, such as higher coupons, for this kind of offering in the future," said Zhongliang Tuo, a Beijing-based investment manager at Cinda Securities Ltd.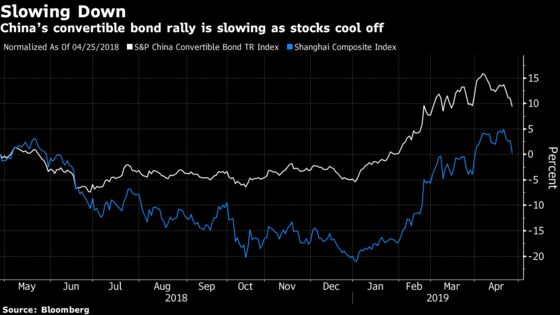 The note's drop is mainly due to a recent cooling in China's convertible and exchangeable bond market and the unattractive terms of the offering, said Xiao Pei, an analyst at Guotai Junan Securities Co. It may also have been affected by news that China Three Gorges' takeover bid for Portuguese utility EDP-Energias de Portugal SA failed, he said.
China Three Gorges' 9.1 billion euro ($10.1 billion) offer for EDP-Energias de Portugal ended after the utility's shareholders decided to keep a cap on voting rights. The Chinese firm had set conditions for its bid, including a requirement that the voting limit be removed.
A gauge tracking China's convertible bonds has fallen 5.6 percent from its peak on April 4. Investors typically bet on convertible bonds for potential gains on the equity conversion, meaning the two markets tend to rise and fall together. After a strong rally this year, China's stock market rally is showing signs of slowing.
China Three Gorges' exchangeable bonds can be swapped for China Yangtze Power Co. shares 12 months after issuance, according to the prospectus. The stock has risen 5.6 percent this year, versus a 25 percent gain by the Shanghai Composite Index.
China Three Gorges' move to match the country's fast-growing green bond market with the equity-linked market could allow it to fund green projects while lowering costs, bankers and analysts told Bloomberg. The firm sold a 2.5 billion yuan five-year green bond in February, paying a coupon of 3.73 percent, according to a stock exchange filing.
The five-year exchangeable bond drew orders exceeding the offer size by more than 110 times, according to China Three Gorges' website. The coupon was set at 0.50 percent, the lower end of the guidance range of 0.50 percent to 1.50 percent, another stock exchange filing showed.