Qinghai Provincial Says Wired Funds to Repay Bond Due Today
(Bloomberg) -- Qinghai Provincial Investment Group Co. has wired funds to repay the principal and interest on its $300 million 6.3 percent bond due on Sept. 26, Ye Shenggui, the head of financing at the state-owned company, said in a phone interview.
"We've wired the funds for the bond repayment on September 25 to the bonds' trustee Bank of New York Mellon," Ye said. "The bondholders should be receiving the repayment today." The bank's Hong Kong-based communication officer couldn't be reached for a comment.
Qinghai Provincial's dollar bonds jumped on the repayment news, ending months of uncertainty that took the notes on a roller-coaster ride. A surge in onshore defaults to a record 50 billion yuan ($4.3 billion) so far this year due to the government's deleveraging drive, which included efforts to cut local government debt, added to repayment uncertainties.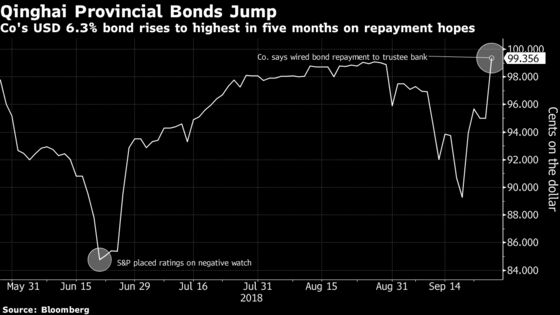 Qinghai Provincial is closely watched by the market because the firm is considered by some as a local government financing vehicle, and the level of official support for that type of issuer will be critical as record maturities loom.
"At this stage we are uncertain on the origins of the funds, but clearly authorities are aware of the ramifications of defaulting offshore in instruments that carried implicit state support assumptions," said Owen Gallimore, head of credit strategy at Australia & New Zealand Banking Group. "There will however continue to be default risks given the refinancing wall ahead, with Qinghai itself facing another major $300 million offshore bond maturity in mid-December."
The company's dollar bond due Sept. 26 rose to as high as 99.6 cents on the dollar on the news, its highest since April 19, according to Bloomberg data. It sank to as low as 84.8 cents in June on refinancing concerns.
Bloomberg reported earlier that local government officials in Qinghai region were planning a bailout for the cash-strapped aluminum maker, and were weighing rescue options that include a takeover by Qinghai State-owned Assets Investment Management Co. or a merger of the two firms.
Qinghai State-owned Assets Investment Management, a company backed by the provincial government, denied any takeover plan.
Even as Qinghai Provincial's bondholders cheer the possibility of a repayment, overall default concerns in China are far from over. More than 25 local bonds have defaulted in the third quarter, pushing the total number to 44, according to data compiled by Bloomberg.
Neoglory Holding Group said on Tuesday it missed payments on two bonds while Jilin Liyuan Precision Manufacturing Co. said it won't be able to pay interest on a bond on time.
The latest round of defaults shows the difficulties faced by some Chinese firms in repaying debt despite recent financial easing measures. Analysts at SWS Research said last week that default risks would remain high in China through 2019 and it would take time for easing policies to help reduce refinancing pressure.