Property Investors Curb Their Enthusiasm for China's Greater Bay
(Bloomberg) -- China's grand plan to integrate nine cities in Guangdong with Hong Kong and Macau to create a sprawling megalopolis that would rival California's Silicon Valley isn't providing the kick to property investment you might think.
Cross-border real estate investment into mainland cities in the so-called Greater Bay Area is expected to fall as much as 33 percent in 2018, figures from Knight Frank LLP show.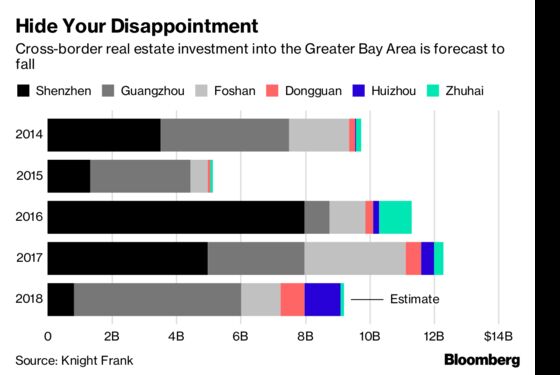 House-purchase controls in the larger cities may have damped developers' appetite to bid for land, according to David Ji, Knight Frank's head of research for Greater China. "Limited supply of high quality commercial buildings has also played a role," he said.
It's not a promising start for the Greater Bay Area, which is forecast to have a GDP of $4.6 trillion -- more than Germany -- by 2030, up from about $1.5 trillion last year. Hopes for growth have been pinned on the recent opening of the Hong Kong–Zhuhai–Macau Bridge and the Hong Kong section of a high-speed rail line that will shorten the travel time between the mainland and the former British colony.
Capital flowing into property investments is -- at least for the time being -- expected to be concentrated in tier 1 cities, running counter to China's goal of speeding up development in second and third tier centers.
Outside of Shenzhen and Guangzhou, most Greater Bay Area cities are considered third or fourth tier. China International Capital Corp. is forecasting home prices in those areas to fall in 2019 amid a broader softening housing market.
"We only look at first tier cities because we buy offices," said Ivan Ho, the Hong Kong CEO of real estate fund manager KaiLong Group. The firm is mainly interested in investing in Shenzhen and Guangzhou, he said.
"The regional fundamentals of Guangzhou have improved in terms of office demand and supply, as well as rental growth," Ho said. He conceded that was probably partly related to the Greater Bay Area push. "As for Shenzhen, the prices are quite expensive now."