Where's the Beef? On Its Way to China
(Bloomberg) -- China, a nation of pork lovers, has developed an appetite for overseas beef that could see it buying record amounts this year.
The biggest consumer of global commodities boosted beef imports by almost 80 percent in October from a year earlier to 92,435 tons, customs data showed. That brings this year's shipments to more than 830,000 tons, on pace for an annual record. Meanwhile, pork purchases fell 2.2 percent last month, with beef imports eclipsing pork for a third month.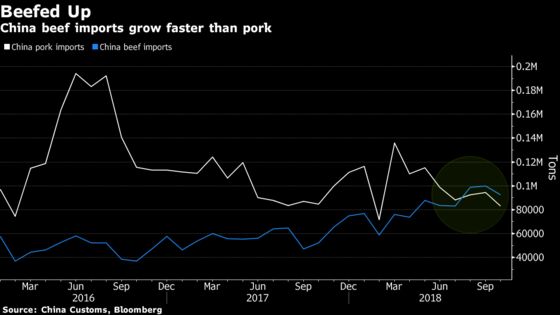 "Beef imports this year are set for a record high as more Chinese shift to high-quality meat," said Zhu Cong, a researcher with the Chinese Academy of Agricultural Sciences in Beijing. "The country has opened its market to more countries."
Overseas suppliers may be unable to meet China's robust appetite for beef as constraints on the expansion of domestic herds limit home-grown production, said Pan Chenjun, analyst with Rabobank International in Hong Kong.