PetroChina Pays Out Lucky 8s 
(Bloomberg) -- PetroChina Co. is rewarding shareholders with a higher -- and symbolic -- payout after its best half-year profit in more than three years.
The nation's biggest oil and gas producer raised total dividends for the first six months by almost one-third to 0.0888 yuan per share. The lucky payout -- eight is widely considered an auspicious number in China like seven is in the U.S. -- rounds out a banner earnings season for China's three oil majors as crude's rally allowed them to return more money to shareholders.
PetroChina's earnings, released Thursday, follow higher results from state-owned peers China Petroleum & Chemical Corp. and Cnooc Ltd., driven by a global crude price rally and deep cost cuts. Benchmark Brent crude averaged 35 percent higher in the first six months at $71 a barrel.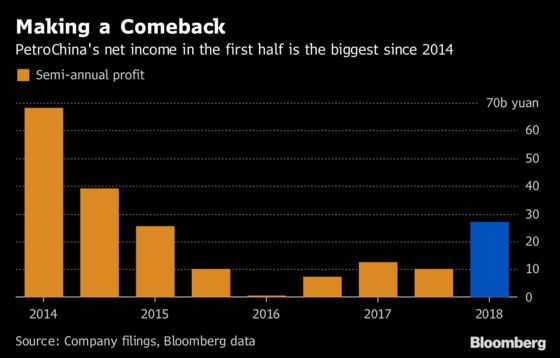 "The recovery of crude price was the biggest driver for its strong performance," said Tian Miao, a Beijing-based analyst at Everbright Sun Hung Kai Co. "PetroChina may continue to benefit from a rise in the price in the second half."
To read a wrap of analyst reaction to PetroChina's earnings, click here.
While PetroChina did raise its dividend, the increase trailed its peers and only used up about one-third of its free cash flow, according to Neil Beveridge at Sanford C. Bernstein Co. in Hong Kong. China Petroleum, known as Sinopec, boosted dividends by 60 percent to 0.16 yuan a share when it announced record earnings on Sunday. Cnooc will pay HK$0.30 a share, 50 percent more than the previous year.
Shares on Friday fell as much as 4.5 percent to HK$5.80 in Hong Kong before paring losses to 3.5 percent as of 9:46 a.m. local time, compared with a 1.4 percent slide in the city's Hang Seng Index.
Parent China National Petroleum Corp., along the other two state giants, are under a mandate by President Xi Jinping to ramp up domestic oil and gas output amid a trade dispute that threatens to curb shipments from the U.S. For the first six months of the year, oil and natural gas output increased 1.5 percent to 736.3 million barrels of oil equivalent from a year ago.
PetroChina is "born with a mission" to produce oil and gas for China and will "spare no efforts" in fulfilling that goal, Vice Chairman Zhang Jianhua said at a briefing in Hong Kong. The company aims to expand natural gas output annually by 4 to 5 percent, and oil production by 1 percent, from next year, he said.
PetroChina said net income jumped to 27.1 billion yuan ($3.96 billion) in the first six months, from 12.7 billion a year ago, according to a filing to the Hong Kong stock exchange. That's the highest semi-annual profit since the second half of 2014, according to data compiled by Bloomberg.
The company had already flagged last month that profits would more than double, citing improved operations and higher realized prices of crude oil, products and natural gas.
The Beijing-based energy giant will pay out an interim dividend of 0.0666 yuan per share, as well as a special dividend of 0.0222 yuan. Last year, it declared a total of 0.069 yuan a share for the first half, which included a 0.038 yuan special dividend.
While the company's dominance in the world's top energy user allows it to better benefit from higher oil prices and a nationwide drive to boost gas demand, it also bears the burden of having to resell overseas gas supply domestically at lower regulated rates. Losses from gas imports deepened to 13.4 billion yuan in the first half, from 11.8 billion.
CNPC has set out a new pricing strategy for winter gas supply between November and March that proposes to raise prices by as much as 40 percent for some users, according to an Energy Observer report this month. Morgan Stanley said the hikes will be a "material positive catalyst" for PetroChina.
Operating profits from its exploration and production unit climbed to 29.9 billion yuan from 6.9 billion a year ago, while the refining and chemicals division gained to 23.2 billion yuan from 15.8 billion.
On a quarterly basis, PetroChina made a profit of 16.9 billion yuan in the three months ended June, the highest since the second quarter of 2015, compared with 6.98 billion yuan a year ago, according to data compiled by Bloomberg.
Other details from the first-half statement include:
Capital expenditures rose 20 percent in the first half to 74.6 billion yuan, compared with a full-year estimate of 225.8 billion.
Revenue gained 14 percent to 1.11 trillion yuan.
Overall crude output was steady at 437.7 million barrels, with overseas supply rising 9.6 percent versus a 1.3 percent drop in domestic production.
Natural gas output expanded 3 percent to 1.79 trillion cubic feet.
Refinery throughput gained 16 percent to 551.6 million barrels.

Gasoline output increased 22 percent to 21 million tons, while diesel climbed 13 percent to 25.7 million tons