PetroChina Rides Oil Surge to Become Hong Kong's Top Stock
(Bloomberg) -- China's largest oil company is staging a stellar rebound to become Hong Kong's best gainer this year thanks to a rally in oil prices.
State-owned PetroChina Co. has surged 51% this year to make it the top-performing stock in the city's benchmark Hang Seng Index. Its Shanghai-traded shares have jumped 30% in the same period, leading CSI 300's energy sub-gauge.
While that still leaves the Hong Kong stock more than 80% below its 2007 peak, average analyst estimates compiled by Bloomberg point to a further 9% rise in the next 12 months.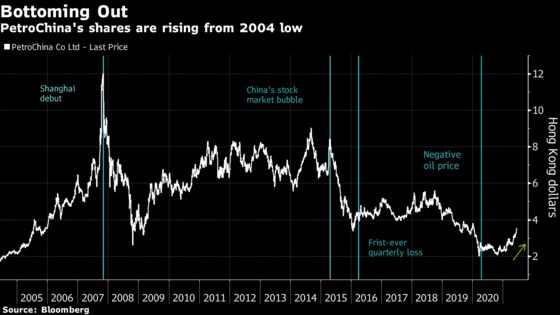 "PetroChina's rally has a long way to go," said Li Liangxu, a fund manager at Guangdong Ronghao Asset Management with investments in the energy producer. "Its earnings will keep recovering this year thanks to the oil rally."
The company reported a return to first-quarter profit as it recovered from the crash in energy prices and fuel sales last year. Its shares lost 39% in 2020, among the worst performers in the Hang Seng Index.
In 2007, PetroChina became the world's first trillion-dollar company when it debuted in Shanghai, but its stock plunged after Beijing stepped in to curb market speculation. Shares in Shanghai tumbled to a record low in October, hampered by oil's epic crash and concerns about the long-term future of Chinese demand amid the country's shift to renewable power and new energy vehicles.
This year's nearly 45% oil price surge, driven by economies reopening after the pandemic, has helped boost the energy producer. A surprise turnaround in its imported gas segment, which last year turned profitable for the first time since 2011, further strengthened its footing. The firm sold imported gas at a higher-than-expected price, while costs fell to the lowest level since inception of that business, Citigroup Inc. analysts wrote in a note.
To be sure, while gas drilling is proving lucrative amid the country's push to displace coal, the company often loses money on the import business because it has to buy the fuel at oil-linked prices and then sell it at government-set rates. The rally in global oil and gas prices this year may eat into gas margins.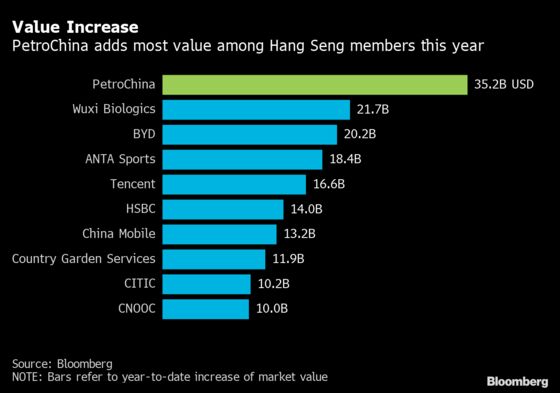 Morgan Stanley analysts last month lifted their A-share target price on the firm by 5%, citing stronger-than-expected price and volume levels in the first quarter. Last week, JPMorgan Chase & Co. analysts upgraded the firm while also lifting its price target.
PetroChina is only one of the two oil companies globally with a market cap exceeding $100 billion that trades below its book value, according to Bloomberg data. In dollar terms, PetroChina has added about $35 billion in market value since the start of the year, the most among members in the Hang Seng Index, according to Bloomberg calculations.