China Default Storm Sends Dollar Junk Bond Yields to 2015 Highs
(Bloomberg) -- A rout in China's dollar-denominated junk bonds is getting worse as mounting defaults send traders running for cover.
Rising trade tensions are also adding to longer-existing difficulties created by the nation's push to cut excessive leverage.
Junk bonds from China have been more volatile this year than such securities from all of Asia. The average yield for the nation's speculative-rated notes has surged to 10.5 percent, the highest since 2015, according to ICE BofAML indexes.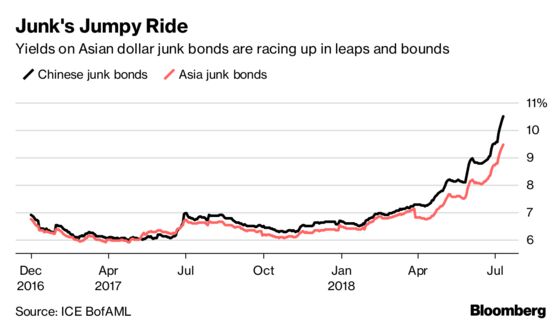 Few expect a rebound anytime soon. With summer, market moves are being amplified by lower liquidity. Bank traders are also less willing to bid for securities because of concerns that they will be left with losses shortly after buying the notes.
"In this kind of year where we have a credit bear market, it's typical for investors to position defensively," said Antonio Cailao, director of Asian credit trading at ING Bank NV. That means investors will gravitate toward debt with low volatility and low duration, while avoiding and reducing exposure to high yield, he said.