PBOC Tweaks Liquidity Tap Again as China Growth Jitters Persist
(Bloomberg) -- Sign up for China Rising, a new weekly dispatch on where China stands now and where it's going next.
China's central bank took a further step to secure liquidity to the slowing economy, amid investor jitters over the outlook and expectations that more easing moves are in the pipeline.
The amount of cash lenders must hold as reserves will be cut by 1 percentage point, dropping by 0.5 percentage point on January 15 and a further 0.5 percentage point on January 25, the People's Bank of China said on its website. The cut will release a net 800 billion yuan ($117 billion) of liquidity and will offset a funding squeeze ahead of the Chinese New Year, it said in separate statement.
People's Bank of China Monetary Policy; Decision History
Data this week also showed a worsening picture for the world's second largest economy, with a manufacturing gauge falling into contraction, further depressing investor sentiment after a rough 2018. The Shanghai Composite Index hit a four-year low earlier this week, and Apple Inc. shares plunged the most since 2013 after reporting it would miss a quarterly sales forecast because of slowing iPhone sales, especially in China.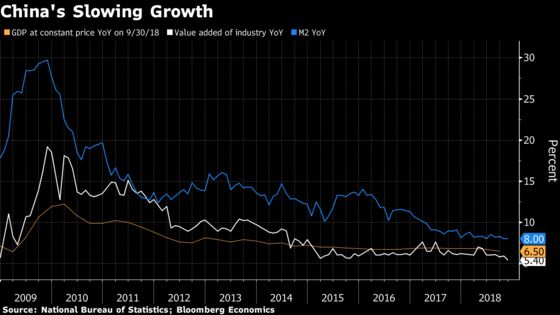 "The PBOC is reacting to the recent deterioration of the economic environment," said Stefan Grosse , an economist at Nord LB in Hanover, Germany. "The weak PMI in China as well as the ISM PMI manufacturing in the U.S. point to a slowdown of the global economy. Expect more governmental stimulus to come."
The offshore yuan pared gains slightly to trade 0.1 percent higher at 6.8763 per dollar as of 6:30 p.m. local time. Hang Seng and Nikkei futures rose.
The latest reduction is the first all-inclusive required reserves cut since March 2016. It reduces the rate for major banks to 14 percent from Jan. 15 and 13.5 percent from Jan. 25. China's top leaders have pledged to keep monetary policy prudent while striking an "appropriate" balance between tightening and loosening in 2019, as part of a broader effort to ratchet up stimulus to support growth.
Today's cut is still "targeted" easing rather than wide-ranging stimulus, the PBOC said, adding that its "prudent monetary policy stance hasn't changed." Implementing the cut in two phases ensures "overall banking liquidity stays reasonable and sufficient while balancing internal and external factors to keep the yuan's exchange rate at a reasonable and equilibrium level," it said.
The PBOC had cut reserve requirement ratios for some banks four times in 2018, and recently introduced a targeted version of its Medium-Term Lending Facility to supply lower-cost funding to banks, a move analysts see as a toned-down version of broad rate cut.
"This may in part be a reaction to the bad PMI data and the equity market sell-off we have seen," said Michelle Lam, a greater China economist at Societe Generale SA in Hong Kong. "They're trying to restore market confidence and need to ease credit conditions to boost lending to the private sector and because of high seasonal demand for cash."
China's official manufacturing purchasing managers index fell into contraction territory last month, the weakest since early 2016. Early indicators for December signal the economic slowdown is deepening, after official data showed industrial production growth was the weakest in a decade and industrial profits fell for the first time in almost three years in November.
Chinese financial stocks surged Friday as Premier Li Keqiang visited the nation's biggest banks and pledged more support for the economy. Li said China will strengthen the scale of its counter-cyclical adjustments of macro policies and further cut taxes, while urging banks to take full advantage of tools including reserve ratio cuts, and to support private and small businesses' financing needs.
Confirmation that U.S. and Chinese negotiators will meet in Beijing next week for two days of trade talks also helped boost Chinese stocks on Friday. Deputy U.S. Trade Representative Jeffrey Gerrish will lead a delegation to meet Chinese counterparts, China's commerce ministry said in a statement. It will be the first time the two sides have met formally since Donald Trump and Xi Jinping agreed to a 90-day truce in Argentina last month.
At the same time, there's not much evidence so far that the targeted, moderate stimulus strategy that Beijing has followed since mid-2018 is doing much to revive confidence in the outlook.
"How much can this help the economy remains to be seen," said Tao Dong, vice chairman for Greater China at Credit Suisse Private Banking in Hong Kong. "The central bank has been handing liquidity to the banks, but the banks are unwilling to lend. This is a classic case of banking dis-intermediation amid the down cycle."