OPEC Core's Crude Exports Gain Despite Saudis' Output Sacrifice
(Bloomberg) -- Oil shipments from OPEC's Persian Gulf producers edged higher last month, even as Saudi Arabia, the region's biggest exporter, made good on it promise to cut back production sharply.
Combined shipments of crude and condensate -- a light form of oil extracted from gas fields -- from Saudi Arabia, Iraq, the United Arab Emirates and Kuwait rose by 120,000 barrels a day in February. Increased shipments from Kuwait and Iraq more than offset lower flows from the UAE and Saudi Arabia, vessel-tracking data monitored by Bloomberg show.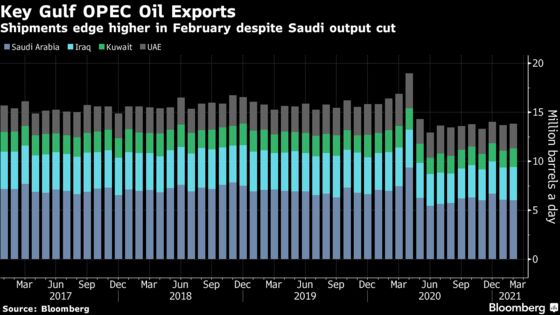 The four Persian Gulf nations shipped a total of 13.8 million barrels a day of crude and condensate last month. With nearly 23 million barrels, equivalent to about 810,000 barrels a day, on ships yet to signal a final destination, the volumes delivered to individual countries could rise significantly.
Despite cutting production by close to 1 million barrels a day in February, shipments from Saudi Arabia fell by just 35,000 barrels. Maintenance work at refineries allowed the kingdom to make the output reduction with minimal impact on exports, with some crude probably also drawn from stockpiles. Flows from the UAE also dipped last month, dropping by 138,000 barrels a day, or 5%.
In contrast, Kuwait boosted exports in February by 12%, the data show, more than restoring the drop in flows observed in January.
Iraq's crude exports also rose, increasing by 83,000 barrels a day to a nine-month high, even after the country's oil minister pledged that it would pump below its quota in February to make up for past overproduction.
Observed flows from Iran have been excluded, as most of the country's tanker fleet remains hidden from tracking.
Shipments from the four Gulf nations to China, based on preliminary destination signals from tankers, fell by 740,000 barrels a day, or 18%. Revised tanker destinations for January erased most of the initial drop of 350,000 barrels a day initially seen for that month and are likely to erase some of last month's drop, too.
The UAE was the one country that saw increased shipments to the world's biggest crude importer. Saudi Arabia and Iraq both saw flows to China fall by about a quarter, though they also have the largest volumes of shipments on tankers that have yet to show final destinations, so flows may be revised higher later.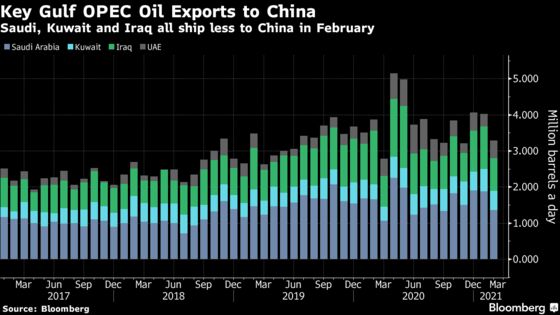 Shipments to India are generally much less affected by vessels not showing their destination, with sailing times to ports on the country's western coast of only a few days. Shipments to the region's closest major customer fell by more than 500,000 barrels a day, or 20%, in February, dropping to their lowest level since June. The slump came as India criticized the OPEC+ policy of keeping a tight rein on supplies and driving oil prices higher, while arrivals from the U.S. soared.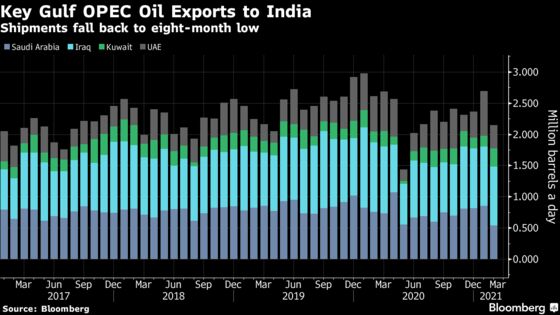 Crude and condensate flows to South Korea continued to dwindle, edging down again in February. Lower shipments from Saudi Arabia and Iraq more than offset increases from the UAE and Kuwait.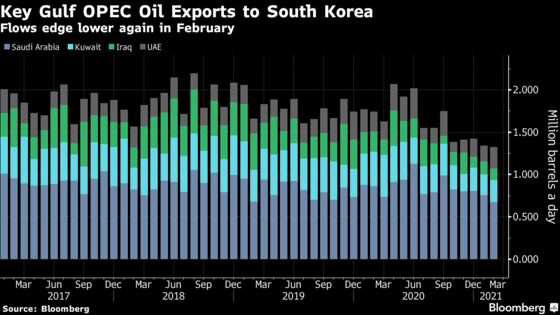 Crude and condensate flows to Japan edged higher in February to remain close to 1.85 million barrels a day. But they are still about 15% below their 2019 average level of 2.18 million barrels a day.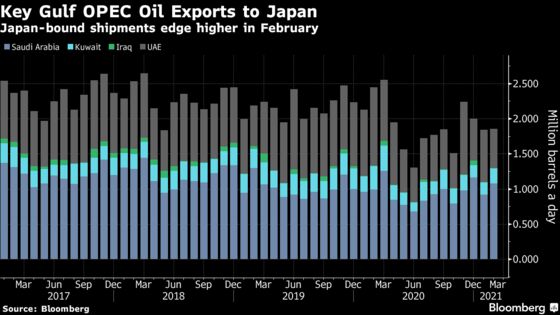 Flows to the U.S. dropped back in February after jumping in January, returning to the levels seen in November and December. Shipments from Saudi Arabia slumped to 125,000 barrels a day, the lowest since October and the second-lowest in tracking data going back to January 2017, though that figure could rise.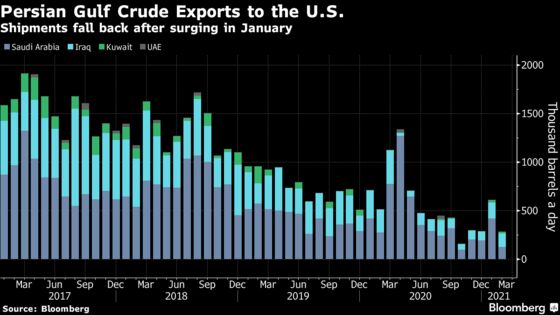 Note: The figures above include exports from northern Iraq via Ceyhan in Turkey and outflows from the UAE's Indian Ocean coast and from Saudi Arabian Red Sea ports. They include crude and condensates, a light form of oil extracted from gas fields. Figures for flows to individual destinations are subject to change, especially when ships pass transit points like Singapore and the Suez Canal.
Bloomberg Terminal users can click on NI TANTRA for all tanker tracking stories, ALLX CUAG for tickerized data for Persian Gulf OPEC flows, and LINE GBLCRUDE for an overview of Bloomberg tanker tracking.