Oil Tankers Idling Off Shandong Show Depth of Demand Destruction
(Bloomberg) -- The time spent by tankers waiting to unload cargoes of crude and refined fuel at ports in Shandong has jumped more than fourfold in some cases as the coronavirus crimps demand from the nation's refiners.
Two vessels have been idling for 20 days or more off the eastern Chinese province, home to most of the nation's independent processors, compared with a typical wait of less than five days, according to data compiled by Bloomberg as of Feb. 12. A further five ships have been parked for 5-13 days. The tankers are still laden with crude and products after loading at ports in Norway and the Middle East.
Refiners across the country are cutting production due to slumping demand and swelling domestic inventories as the outbreak slashes travel and the movement of people. Processing rates at Shandong's plants have plunged to less than 50% this month, down from 70% in December, according to the Oxford Institute for Energy Studies. Qingdao Port International said the discharge of crude inventories has slowed, although operations are normal.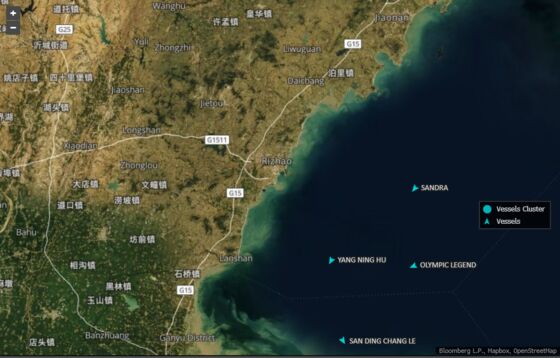 The following is a list of crude and product tankers that have been idle for at least five days off the coast of Shandong as of Feb. 12:
Name
Type
Load Port
Last Port
Wait Time (Estimated)
Notes
Chang Hang Ma Nao
Handymax
Yeosu (STS)
N/A
10 days

Waiting off Dongying since Feb. 3.

Loaded cargo around Feb. 1

Yong Xing Zhou
Panamax/LR1
Yeosu
N/A
10 days
Waiting off Dongying with cargo since Feb. 3
San Ding Chang Le
Panamax/LR1
Hong Kong (STS)
N/A
20 days

Waiting off Lianyungang since Jan. 24.

Loaded cargo around Jan 19

S-Trooper
Aframax/LR2
Fujairah
N/A
24 days
Waiting off Longkou with cargo since Jan. 20
Yang Ning Hu
Aframax/LR2
Dalian
N/A
13 days
Loaded cargo at Dalian
Sandra
VLCC
Mongstad, Norway
Huangdao
12 days

Waiting to discharge at Dongjiakou.

Ship previously unloaded partial cargo Jan. 28 at Huangdao

Olympic Legend
VLCC
Ash Shihr, Yemen
N/A
5 days
Waiting off Lanshan