Offshore Yuan Funding Cost Surges Ahead of Dim Sum Bond Auction
(Bloomberg) -- Offshore yuan funding costs jumped to the highest in 16 months as investors set aside cash for a yuan-denominated China government debt sale in Hong Kong.
The one-week yuan borrowing cost in Hong Kong's interbank market, known as Hibor, rose above 7 percent for the first time since June 2017. The premium of that rate over the one-month version soared to 71 basis points, also the highest since June last year.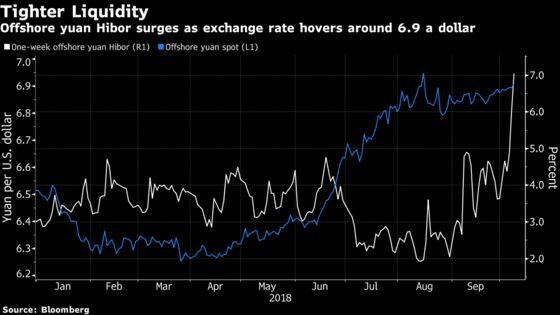 The surge comes as funding demand for the yuan increases in the offshore market before China's Ministry of Finance sells 4.5 billion yuan ($652 million) of dim sum bonds. The auction is scheduled for Wednesday, and issuance and settlement of the debt will be on Friday.
"Investors are hoarding cash to prepare for the dim sum auction," said Frances Cheung, Singapore-based head of Asia macro strategy at Westpac Banking Corp. "Given there hasn't been much southbound inflows to Hong Kong, tight offshore yuan liquidity also amplifies the move."
The surge by the one-week rate is not likely to last beyond the bond sale, Cheung said.
Tighter offshore yuan liquidity means it will be more expensive to short the yuan, which is trading around 6.9 against the greenback. Depreciation pressure has grown due to China's shrinking yield premium versus U.S. Treasuries and the escalating China-U.S. trade spat and as the People's Bank of China cut the amount of cash lenders must hold in reserve to shore up the faltering economy.
Singapore-based Scotiabank currency strategist Gao Qi said yuan liquidity would tighten over the near term. "The Chinese central bank will likely continue to defend the yuan at 6.9 per dollar in the coming two months, which means we could see a funding squeeze and stronger-than-expected fixings."