Oaktree Buys Warily as China's Distressed Loans Pile Up
(Bloomberg) -- Howard Marks, co-chairman of Oaktree Capital Group LLC, is ramping up the firm's focus on investing in China but proceeding with caution.
Oaktree is buying non-performing loans in the country, Marks said in an interview with Bloomberg Radio on Monday from the Milken Institute Global Conference in Beverly Hills, California.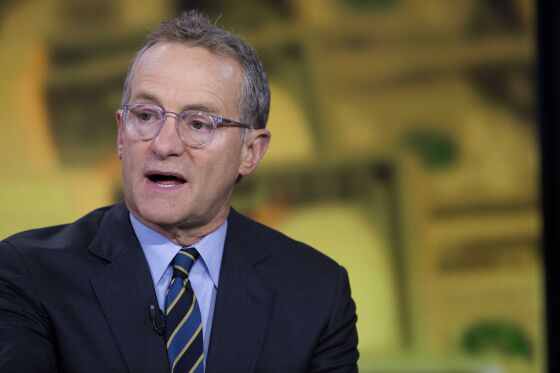 "There is a big pileup of NPLs in China," Marks said. The firm is also finding distressed opportunities in Europe through purchases of NPLs from banks.
China's top four lenders said in recent days that non-performing loans hit fresh multi-year highs in the latest quarter, reflecting risks to China's banks as the government pushes them to lend more.
Marks said he views Europe and Japan as "economic senior citizens" and the U.S. as a "mature adult," while he likened China to an "adolescent" with its best years still ahead. There will be ups and downs but China will have rapid growth in the future, Marks said.
One of China's largest private equity funds said now is not a good time to buy local defaulted bonds as picking winners is harder and government support for troubled firms is fading. "Institutions will now face extreme uncertainty if they try to bet on which companies the government will bail out," said Wu Rui, mezzanine and credit investment executive director at CDH Investments, which manages about 120 billion yuan ($18 billion) of assets.
Oaktree, known for its value-based investing approach and expertise in distressed assets, announced a deal with Brookfield Asset Management Inc. in March that would create one of the world's largest alternative money managers. Toronto-based Brookfield is acquiring a 62 percent stake in Oaktree in the cash and stock transaction.
Earlier Monday at the Milken conference, Stephen Schwarzman of Blackstone Group LP said China's economy is pretty solid and the firm is looking to invest in real estate there.
"China has stimulated their economy like they said they would," said Schwarzman, who is chief executive officer at the private equity giant.