North Asia's Factories Gather Steam as China Output Picks Up
(Bloomberg) -- Factory activity in some of North Asia's biggest export-led economies rebounded in November as China's recovery lifts the region, purchasing managers' indexes show.
South Korea's PMI rose to 52.9 last month, its highest reading since February 2011, from 51.2 in October, according to IHS Markit figures released Tuesday. Japan picked up to 49, the best reading since August 2019, from 48.7. Taiwan rose to 56.9, the highest since January 2018, from 55.1.
China's Caixin Media PMI for manufacturing soared to a decade-high 54.9 in November, according to a release Tuesday morning.
A separate official gauge of China's manufacturing out Monday showed exports fueled faster-than-expected activity in November, momentum that's starting to filter across neighboring trading partners. The manufacturing PMI climbed to 52.1, a three-year high, from 51.4, according to data released by the National Bureau of Statistics. The non-manufacturing index rose to 56.4 after 56.2 in October.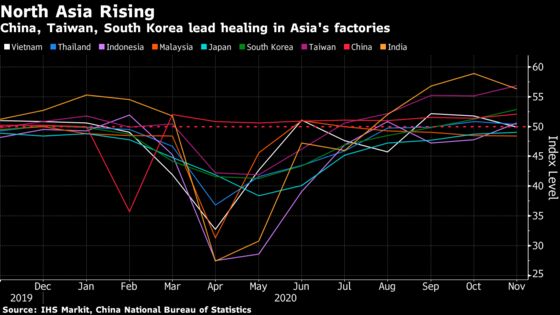 India's manufacturing index declined to a three-month low of 56.3 in November, indicating loss of momentum in factory activity. Meanwhile in Southeast Asia, the figures were mixed. Indonesia's index notched 50.6, for just its third reading this year above 50, the dividing line between contraction and expansion. Thailand stayed in expansion territory, while Vietnam and the Philippines were barely contracting at 49.9 each. Malaysia edged down to 48.4.
The data also are in line with the Bloomberg Trade Tracker, which over the past two months has shown robust healing from the pandemic, especially among Asian economies. With nearly all of the gauges on the tracker at or above normal range, the dashboard is keeping up the healthiest record in its more than two-year history.
What Bloomberg Economics Says...

"The winter months will be challenging for Asian economies. China's recovery momentum should hold up. But many other economies in the region may face pressure from rising cases of Covid-19. Fresh waves in the U.S. and Europe could also damp external demand -- with the degree hinging on the stringency of containment measures."

-- Chang Shu, chief Asia economist

Click here to read the full note
The electronics industry is enjoying particularly strong demand, helping to propel North Asia's factories. South Korea's semiconductors shipments surged 16% in November, compared to 4% for total exports, according to separate data Tuesday from the country's trade ministry.
As a bellwether for global trade, South Korea's pickup in activity is an indicator of pent-up demand as shipments to key export markets quicken.
"South Korean manufacturers reported a significantly optimistic outlook for activity over the coming 12 months," Usamah Bhatti, an economist at IHS Markit, wrote in a note.