This Is the Newest Bubble in China Stocks
(Bloomberg) -- Amid the rubble of the stock market, Chinese speculators have found gold -- in the shape of hi-tech park operators.
Such shares have surged this month as investors sought beneficiaries of President Xi Jinping's plan to set up a stock trading board in Shanghai for technology companies. Shanghai Shibei Hi-Tech Co. has more than tripled since Xi announced the proposal on Nov. 5, while park developers in Beijing and Tianjin have also rallied.
"There are very few details about the tech board, so all the rallies now are just pure speculation to me," said Zhang Gang, Shanghai-based strategist at Central China Securities Co.
Extreme moves in stocks vaguely related to policy announcements aren't unusual in China's equity market, where retail investors dominate trading. In 2013, approval of Shanghai's free-trade zone sparked a boom in shares with Shanghai in their names. Stocks soared last year when investors caught wind of plan to develop a new economic zone in China's Xiongan region near Beijing. Such gains typically unwind quickly.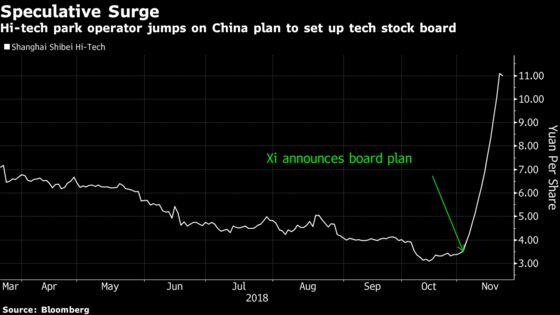 Shibei Hi-Tech said on Monday its recent share price moves have deviated from fundamentals and warned investors of risks. The stock gained by the 10 percent limit every day since Xi's speech until Wednesday, when it swung between losses and gains.
Luxin Venture Capital Group Co., which derived most of its 2017 revenue from manufacturing abrasive products, has rallied 122 percent since Xi's speech. Shanghai Zhangjiang High-Tech Park Development Co. has jumped 73 percent, while hi-tech park developers in Beijing and Tianjin have gained more than 35 percent.
"Investors are buying everything that has the slightest hint of being related to the high-tech concept," said Wang Chen, Shanghai-based partner with XuFunds Investment Management Co. "They are all just playing the game of who will be the last fool to take the relay baton."
Xi's plan to launch a trading venue for tech companies is part of a push to lure back industry giants with overseas listings, such as Alibaba Group Holding Ltd. and Baidu Inc. China's benchmark stock index has tumbled 20 percent this year in the worst performance among major global gauges amid concern about a slowing economy and trade war with the U.S.