U.S. Raises Japan Warning as Infections Spread: Virus Update
(Bloomberg) -- The U.S. raised its travel warning to Japan as Iran, Italy and South Korea all reported additional deaths from the coronavirus.
The spread of the virus outside its origin in China stoked fear that the window to prevent a pandemic may be closing. The World Health Organization, which has a team traveling to the epicenter in Wuhan, said the situation in Iran is "very worrisome" because of the lack of a direct link to China.
Cases in northern Italy climbed to 51. Passengers from the Diamond Princess cruise ship returned to the U.K.
South Korea reported 229 new cases and Yonhap News Agency said a third patient died. Almost half of the country's additional cases were linked to members of a religious sect, including most of the patients at a hospital's psychiatric ward.
Sixth patient dies in Iran, a second in Italy and a third in South Korea
China cases rise to 76,288, with 2,345 fatalities, as of Saturday
Xi Jinping pledges easier monetary policy
South Korea cases surge among church members
Click VRUS on the terminal for news and data on the novel coronavirus and here for maps and charts. For analysis of the impact from Bloomberg Economics, click here.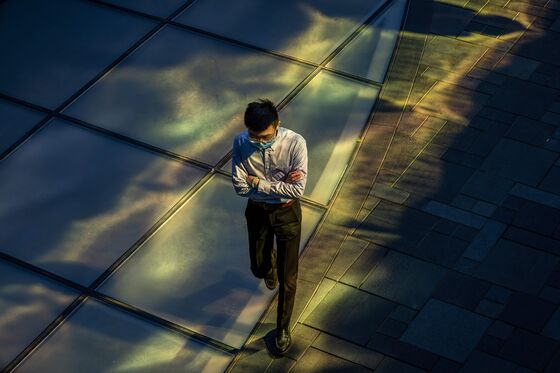 U.S. Raises Threat Warning on Travel to Japan (3:50 p.m.)
The Centers for Disease Control and Prevention raised its alert level for travel in Japan to Level 2. That level warns of "sustained community transmission" and calls for "precautions for high-risk travelers," such as those with chronic medical conditions.
Though Japan has reported only one death -- amid nearly 80,000 cases and almost 2,400 deaths worldwide --- it has a relatively large number of cases, 121. Much of that was because of the spread on the Diamond Princess cruise ship.
Sixth Iranian Reported Dead Amid Wide School Closures (2:15 p.m. NY)
A sixth person died Saturday in Iran, in central Markazi province, the semi-official Tasnim news agency reported. Iran's health officials also reported 785 suspected cases, raising the possibility of far-wider infection. There are 28 confirmed cases.
Officials ordered schools in six provinces closed. Soccer teams, concerts halls, theaters and cinemas have also been told to cancel events, the state-run Islamic Republic News Agency reported. The health ministry later said it closed universities in 10 provinces.
Kuwait Airways said it would send planes to Iran's second-biggest city of Mashhad to evacuate more than 700 Kuwaiti citizens. Private flights have been halted.
Israelis and Palestinians Contain Possible Spread from South Koreans (2:10 p.m. NY)
Israel and the Palestinian Authority took steps to contain the virus's spread after nine South Korean tourists who recently visited tested positive.
Israel's health ministry imposed a two-week quarantine on people in contact with the visitors, who traveled to historic sites and cities like Jerusalem and Ramallah. The Palestinian ministry of interior said the visited sites will be closed. Israel also blocked the entry of South Korean tourists on Saturday. The country reported its first case of the virus on Friday.
Britons Arrive Back from Diamond Princess (11:40 a.m. NY)
The U.K. Foreign Office said 32 British and European citizens arrived today from the Diamond Princess cruise ship that was quarantined in Japan. "Our number one priority has consistently been the health and safety of U.K. nationals," Foreign Secretary Dominic Raab said in a statement.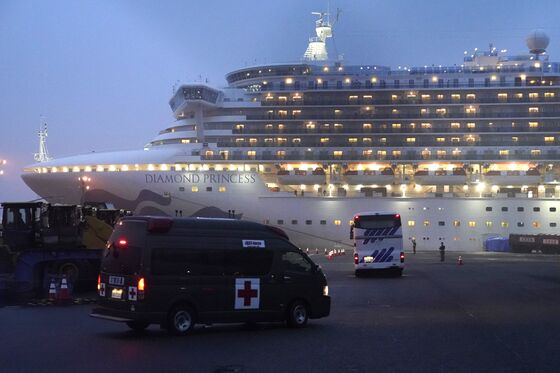 They are being transported to a hospital in northwestern England where earlier evacuees from Wuhan were quarantined.
Iran Confirms Another Death, 10 More Cases (10:35 a.m. NY)
Iran reported a fifth death from the coronavirus, the most outside China, according to state television. The country also confirmed an additional 10 cases, bringing the total to 28. Of the new cases, eight are in Qom, the epicenter of coronavirus in Iran, and two in Tehran, according to Kianoush Jahanpour, a health ministry spokesman said on state television.
Northern Italy Has 51 Coronavirus Cases (8:42 a.m. NY)
The Lombardy region has 39 coronavirus cases with another 12 cases in the Veneto, regional officials said in a press conference Saturday in Milan. Most of the cases are in the Codogno area, 60 kilometers (37 miles) from Milan. A woman who was found dead in her home subsequently tested positive, the health secretary said. Earlier, three tourists in Rome were diagnosed with the virus.
South Korean Psychiatric Ward Infected (6:26 a.m. NY)
Almost all patients at a psychiatric ward of a South Korean hospital tested positive for the coronavirus, with local reports saying a religious sect with followers who were infected had attended a funeral in the same complex. Two confirmed deaths in South Korea are from the Cheongdo hospital's mental health division, Korea's Centers for Disease Control and Prevention said Saturday.
Italian Deaths Lead to Lockdown (6:10 a.m. NY)
The new coronavirus is hitting northern Italy's Lombardy and Veneto regions, where the number of infected people rose to 30 in about 24 hours, according to local media. In Lombardy, a dozen towns in the Lodi area were locked down Saturday after the virus claimed a second victim in the country. More than 50,000 people were ordered to stay at home by the regional government, according to newswire Ansa. Businesses and restaurants closed and soccer games and Masses were canceled.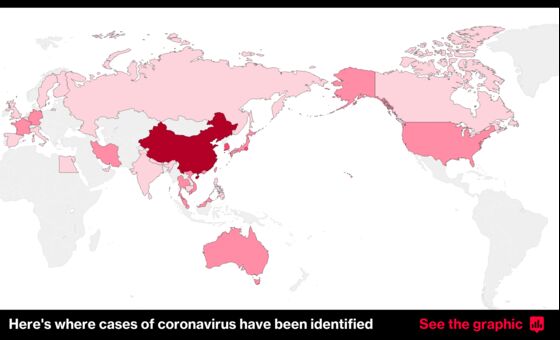 UBS Chairman Says Effects Underestimated (6:09 a.m. NY)
UBS Group AG Chairman Axel Weber said markets are underpricing the risk that the coronavirus poses to the global economy. It will go beyond the first quarter, Weber said in a Bloomberg TV interview during the G-20 Summit in Riyadh. By his estimates, global growth will experience a massive drop from 3.5% to 0.5% and China will post a negative growth rate in the first quarter. That's not happened since at least 1990, according to data compiled by Bloomberg.
Infections Spread
in Hospital

Psychiatric Ward (2:02 p.m. HK)
A hospital near Daegu in Cheongdo County confirmed 111 cases, with 109 of those infected found to be in the psychiatric ward, either as patients or staff, according to Jung Eun-kyeong, director of South Korea's Centers for Disease Control and Prevention. Nine hospital employees are infected, she said.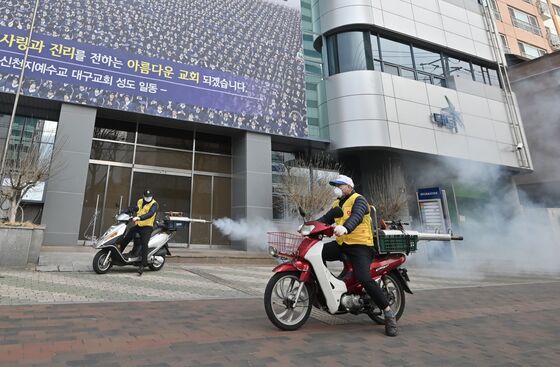 Xi Pledges Easier Monetary Policy (12:50 p.m. HK)
China will exercise more flexibility in monetary and fiscal policy, according to a statement issued after a Politburo meeting chaired by President Xi on Friday. The central bank could allow some lenders to hold fewer reserves and adjust the benchmark deposit rate at an appropriate time, Deputy Governor Liu Guoqiang said in a statement.
China Reports Latest Numbers (9:01 a.m. HK)
Chinese health authorities reported 109 more deaths from the virus, taking the total toll to 2,345, while the number of infections reached 76,288. There were also 2,393 patients discharged on Friday. Hubei province accounts for 63,454 confirmed cases and 2,250 deaths.