MSCI Urges China Ease Ownership Limits After Dropping Stock
(Bloomberg) -- MSCI Inc. said China should consider easing foreign-ownership restrictions in its stock market to prevent more companies from being dropped from its widely followed benchmarks.
New York-based MSCI said it will remove Han's Laser Technology Industry Group Co. from its China indexes after Friday's close because the stock had reached the 28 percent ownership limit that halted buy orders. Midea Group Co., which is also close to the ceiling allowed for overseas holdings, will see its weight adjusted due to concern over accessibility effective from March 11, the index provider said. The two stocks dropped at least 3.1 percent at the close.
The cap on foreign ownership has been set at a relatively low level, said Chin-ping Chia, head of Asia Pacific research at MSCI. "The regulators should explore the possibility to further boost that limit, if they want more participation of international investors in the market," he said.
China currently has no plan to raise limits on foreign holdings in stocks, Shanghai Securities News quoted Fang Xinghai, vice chairman of the China Securities Regulatory Commission, as saying. "Reaching the limit is normal, investors can buy other shares that have not reached the limit," he said, according to the report.
MSCI's decision on Han's Laser comes as the index compiler prepares to increase the weighting of China-listed shares in benchmark indexes tracked by global investors after first including them in 2018. The expansion will occur in three steps this year beginning in May, with the weighting of A shares ultimately rising to 3.3 percent of the MSCI Emerging Markets Index in November from 0.72 percent.
"If foreigners can't buy certain stocks, that creates a liquidity issue and distorts the indexes," said Hao Hong, chief strategist with Bocom International Holdings Co. "It is something that's ought to be changed, and the time is ripe for that."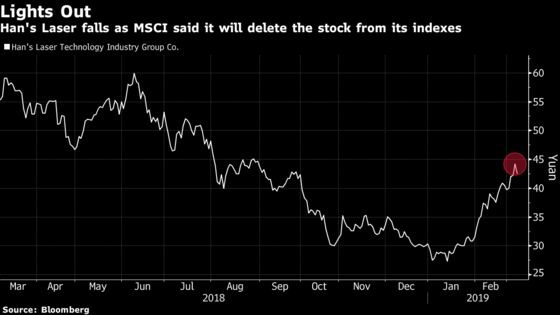 Han's Laser, a Chinese maker of laser tools that supplies Apple Inc., had northbound buying halted on Tuesday because its stock crossed the threshold. The limit, imposed by Shenzhen and Shanghai's exchange operators, takes into account shares held through qualified investor quotas as well as the stock connect link with Hong Kong. Only Shanghai International Airport Co. had previously hit the foreign ownership cap in 2015, before MSCI's inclusion of A shares.
Chia said Han's Laser is likely to be out of its indexes for at least a year.
"We normally need 12 months to monitor if foreign room on a stock is improved and reconsider it for inclusion," he said. "If China raises the foreign investment limit during the monitoring period, we might make it an event-related exception and reevaluate accordingly."
Buy orders via stock trading links with Hong Kong will be halted if foreign holdings in a given China stock reach 28 percent, according to rules posted on the Hong Kong Stock Exchange's website. Buying can resume only when the figure falls to 26 percent.
Hong Kong Exchanges & Clearing Ltd. regularly holds discussions with its onshore counterparts on how to improve trading access, according to a spokesperson.
Thailand's stock exchange caps foreign ownership on most shares at around 49 percent, or 25 percent for banks. Brazil limits overseas holdings of banks, media and transportation companies only. In Europe and the U.S., such limits are applied to airline shares.
Other Chinese stocks that are likely to reach the 28 percent threshold soon are Focused Photonics Hangzhou Inc., which was at 21 percent; Centre Testing International Group Co. (17 percent) and Shenzhen Airport Co. (13 percent), China International Capital Corp. strategists including Hanfeng Wang wrote in note dated Wednesday. Those stocks fell at least 1.4 percent.
Foreigners sold 4 billion yuan ($591 million) of mainland shares via the trading links on Thursday, the most in three months, data compiled by Bloomberg show.