China Stocks Rally as MSCI Considers Lifting Index Weighting
(Bloomberg) -- China's mainland stocks rose after MSCI Inc. said it's considering increasing the weight of the shares in its global indexes from next year, as well as allowing in a raft of smaller tech companies.
The index compiler is proposing to lift a cap on free-float-adjusted market value to 20 percent from 5 percent for yuan-denominated stocks, according to a statement. That would occur in two stages in 2019. MSCI's also looking to make equities listed on the tech-heavy ChiNext board eligible from next year, and mid-cap stocks from 2020, it said. FTSE Russell will announce its own plans for A-share inclusion on Thursday, people familiar said.
After a relatively muted open on Wednesday, a gauge of large caps jumped 1.4 percent in Shanghai and the ChiNext Index rose 1.1 percent. Almost $2 trillion in assets are tied to MSCI's emerging-markets benchmarks, according to the index provider.
"These moves will fuel more inflows to cheap large-caps in China," said Zhang Gang, Shanghai-based strategist at Central China Securities Co. "That's why we are seeing the SSE 50 index members leading the rally."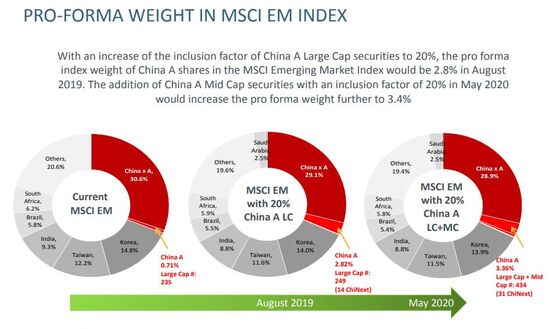 China A shares won entry to the MSCI indexes in June last year and were added to gauges in May and August. The Shanghai Composite Index has fallen 15 percent this year, among the worst performers worldwide, amid a trade dispute with the U.S. and slowing economic growth.
More than 4,600 new accounts have been opened to trade China A shares via the Hong Kong link since the announcement of the MSCI inclusion, according to the index company. Chinese authorities have increased daily quotas for the stock link, while the number of companies suspending their shares has decreased and the Shanghai exchange's closing auction is working well, MSCI said, explaining why it wants to boost the weighting.
"We knew a consultation was coming, though it is a big jump in the inclusion amount in 2019," said Brendan Ahern, chief investment officer at Krane Funds Advisors. "It is an indication the pace of inclusion is faster than the market had anticipated."
Still, inclusion in MSCI indexes hasn't helped Chinese stocks so far. The Shanghai Composite Index trades near the cheapest level in almost four years after falling into a bear market.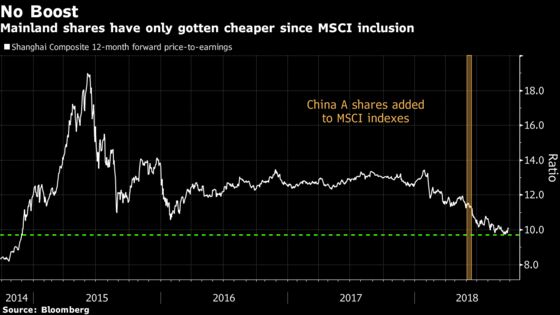 The changes would mean that A shares make up 2.8 percent of the MSCI Emerging Markets Index by August next year, increasing to 3.4 percent when mid-cap stocks are added in 2020. That's a fraction of the allocation for offshore-listed Chinese shares, which would comprise 29 percent of the index in two years' time. Tencent Holdings Ltd. currently has the biggest weighting on the gauge, at 4.8 percent.
MSCI is seeking feedback from investors by mid-February and will announce its final decision at the end of that month.