Moutai's $80 Billion Rout Sends Signal for China's Stock Market
(Bloomberg) -- Kweichow Moutai Co. investors are selling their shares at the fastest pace in more than two years, a warning for a market that owes much of its rally to a handful of large caps.
The biggest stock listed in mainland China has lost $80 billion since onshore markets reopened after the Lunar New Year holiday. Wednesday's 5.1% drop put Moutai's five-day decline at 16%, the biggest for such a period since October 2018. The company had rallied 30% this year through its Feb. 10 record close.
Momentum trades are cracking after the CSI 300 Index briefly surpassed its 2007 closing peak. Chinese traders were griping about a lack of market breadth before the holiday and extreme valuations for some of the most-loved stocks. Less than 10 companies accounted for half of the returns on the benchmark -- including Moutai -- with foreign investors and domestic mutual funds compounding the problem by buying the most liquid megacaps.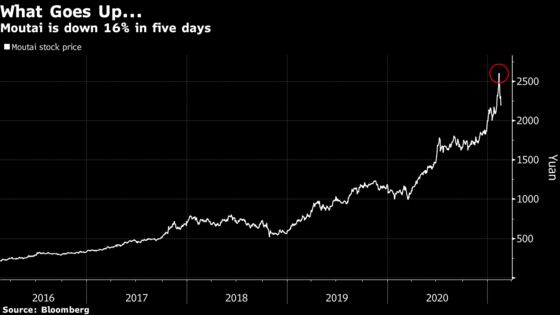 "This is the beginning of the end for baijiu's outrageous valuations and the mark of a massive shift to value stocks," said Dong Baozhen, fund manager at Beijing Lingtongshengtai Asset Management. The big baijiu gains of the past year "have become a prisoner's dilemma - whoever sells first wins."
Triggers for the reversal include signals on tighter monetary policy from the central bank. The People's Bank of China is withdrawing liquidity from the financial system, while local media ran a front-page editorial this week saying China's economic recovery is creating the conditions for the central bank to "normalize" monetary policy.
The CSI 300 ended 2.6% lower, with the consumer staples sector that includes baijiu down 4.5%. Health care, which had also been among the market's best performers until the holiday, dropped 4.4% Wednesday to cap its biggest three-day drop since December 2018.
Other makers of baijiu -- a popular liquor in China -- are among the worst performers on the CSI 300 in the past five days, with Shanxi Xinghuacun Fen Wine Factory Co. down 22% and Luzhou Laojiao Co. losing 21%. The Securities Times newspaper on Tuesday listed three major concerns around the baijiu trade, including record-high valuations, overly heavy positioning by institutional investors and the demise in popularity of the spirit among the younger generation.
A high-profile fund managed by a star manager Zhang Kun, known for his outperformance in recent months and heavy allocation in the baijiu sector, suspended new orders starting Wednesday. The industry accounted for about 40% of the fund's holdings, according to a fourth-quarter filing, with top positions including Moutai.