Mitsui Buys 50% of Taiwan Wind Power Developer Yushan Energy
(Bloomberg) -- Mitsui & Co. Ltd. is buying a 50 percent stake in wind farm developer Yushan Energy Co., giving the Japanese trading house a stake in an offshore power project in Taiwan.
Yushan is a unit of Enterprize Energy, which owns a 40 percent net interest in the Hai Long Offshore Wind development in the Taiwan Strait, according to an emailed statement from Enterprize. The 300-megawatt project still in the planning stages and may require $1.8 billion to develop, according to Bloomberg New Energy Finance.
Mitsui's involvement would bring another major investor to Taiwan's effort to secure additional energy supplies while phasing out nuclear power. The island's spare generation capacity has narrowed so much in recent years that blackouts are an increasing risk.
Buffeted by strong breezes in the Taiwan Strait, the nation picked seven companies in April to lead work on 3.8 gigawatts of offshore wind farms by 2025. Those plants, according to the government in Taipei, may require NT$962.5 billion ($32.5 billion) investment.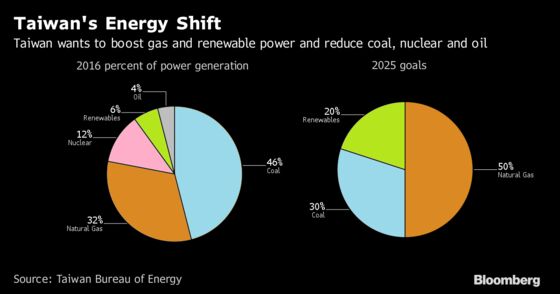 Japanese trading houses have been making moves into offshore wind in overseas markets, gaining experience to participate in what may become a big industry at home. Marubeni Corp. owns stakes in projects in the U.K. Mitsui's move would mark its first foray into the industry in Taiwan.
Northland Power Inc., a Toronto-based energy firm, owns 60 percent of the Hai Long 2 project, with Yushan holding the remainder. It's one of seven groups chosen last month to lead offshore wind farm development in Taiwan via a government auction.
Orsted A/S, the world's biggest developer of offshore wind farms, which was also among government auction winners, said this month it may sell to local investors 50 percent stakes in as many as four projects it plans to build off the coast of western Taiwan.
A Mitsui official declined to disclose the price of its stake in Yushan or the total cost of developing the project, adding the venture is expected to start commercial operation in 2024.
The plant will sell electricity based on a 20-year feed-in tariff that Taiwan initially fixed at $199 a megawatt-hour, according to BNEF.
Yushan sees potential for more work alongside that Hai Long windfarm. It has done work to identify areas in Taiwan for offshore wind farms and with Northland is "proceeding with the development of sites in the Changhua Sea area," it said on its website. "The projects will result in over 1,000 megawatts of offshore windpower being made available to the Taiwan electrical power grid."
Named after the highest mountain in Taiwan, Yushan is unit of Singapore-based Enterprize Energy Pte., a pioneer in the offshore wind industry. Founded by Ian Hatton, Enterprize helped get the Ormonde wind plant in the Irish Sea started in 2011, the biggest offshore wind farm of its kind at the time. It specializes in early-stage work on energy projects and also has operations in Vietnam and the U.K.
READ: Taiwan Ignoring Its Energy Crisis, May Open Investment Doors