Micron's China Ban Is Latest Blow to Chipmakers in Their Top Market
(Bloomberg) -- The decision by a Chinese court to temporarily ban some sales by Micron Technology Inc. adds to a series of setbacks for the world's chipmaking giants in their most important market.
Micron, which has been caught up in dueling intellectual property lawsuits with United Microelectronics Corp., received a preliminary injunction from the Fuzhou Intermediate People's Court in Fujian province stopping sales of 26 products. The order includes dynamic random access memory and Nand flash memory chips, according to a statement from UMC.
Chipmakers are finding it increasingly fraught doing business in China, the world's biggest market for semiconductors, amid tensions with the U.S. over trade and the Asian country's own aspirations in the sector. Micron and its South Korean rivals are being probed by antitrust authorities while regulators have been silent on their investigation of Qualcomm Inc.'s bid for NXP Semiconductors NV, a deal that has been pending for more than 18 months and cleared everywhere else in the world.
"As the trade war looms, both China and the U.S. are trying to get more cards in their hands for sure. Companies like Micron are right in the middle of the storm," said Roger Sheng, an analyst at Gartner Inc. "Having said that, I don't think the local court got orders from Beijing to put the ban on Micron. That's simply not how China's government system works."
Micron said it hasn't been served with the injunction and won't comment until it does. Shares in the Boise, Idaho-based company dropped as much as 8 percent while UMC was unchanged in Taipei. Chipmakers led a slump in technology stocks in early European trade.
UMC declined to provide a copy of the court's decision. An official who answered a call to the court's news office confirmed the existence of an injunction order on Micron, but said details of the ban would not be made public because the case is still ongoing.
Hsinchu, Taiwan-based UMC took legal action against Micron in January, alleging that the U.S. company infringed on patents in China related to memory storage and other products. Among the remedies it sought was to stop Micron from making, importing or selling the allegedly infringing products and also destroy all inventory and pay compensation.
The Micron ban escalates a trade dispute that's engulfing industries from steel to autos and increasingly also the electronics sector, where the two countries' economies are heavily intertwined. U.S. President Donald Trump has railed against Chinese companies for allegedly stealing U.S. companies' intellectual property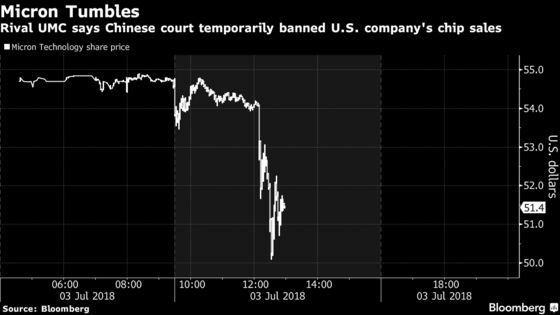 The patent case is part of a broader dispute between the two companies centering on accusations that UMC acted as a conduit for the theft of Micron's designs in an attempt to help China grow its domestic chip industry and replace imports that rival oil in total value.
Last year, Micron sued UMC and its partner Fujian Jinhua Integrated Circuit Co., claiming they stole memory chip trade secrets. China accounted for more than 50 percent of Micron's revenue in fiscal 2017, according to company data.
China is the largest market for semiconductors, yet it isn't home to even one of the top 10 producers of the crucial components. The memory chip market has been increasingly concentrated in the hands of Micron and its Korean rivals, Samsung Electronics Co. and SK Hynix Inc., with all three being investigated by Chinese regulators. They have generated record profits recently from the parts that are essential to everything from supercomputers to smartphones.
China's Huawei Technologies Co. and ZTE Corp. are fighting U.S. government action that threatens to cut them off from U.S. suppliers and potential customers. On Monday, the U.S. moved to block China Mobile Ltd., the world's largest mobile phone service provider, from entering the U.S. market, citing national security grounds.
While their governments fight, companies face potential disruption of a complex supply chain that produces most of the world's smartphones, computers and their components. For example, Qualcomm designs its chips at its San Diego headquarters, then has them manufactured in countries including Taiwan and Korea. The semiconductors then become the most important electronic parts in phones that are mostly made in China and then sold worldwide.