Man United Seeks to Engage Chinese Fans as Rivals Boost Presence
(Bloomberg) -- The most popular soccer team in China, England's Manchester United, plans to open interactive centers in the country, just as its rivals are seeking a bigger share of the nation's growing fan base.
The venues in Beijing, Shanghai and Shenyang -- built in partnership with Chinese property developer Harves -- will help its 100-million-plus fans in the nation "get closer to the club they love," according to a statement on Tuesday.
The entertainment centers, set to open by the end of 2020, will use new technology to bring fans closer to the club's history and the "thrill" of a match, and will also house restaurants and club retail stores, Man United said.
The Red Card 2018 report, which analyzes European soccer clubs' digital performance in China, ranked Manchester United as the top club online in the country. Man United also has a partnership with China's Ping An Bank for a branded credit card.
United doesn't "want to lose ground" in the Far East to local rival Manchester City or Spanish giants Real Madrid and Barcelona, according to Robert Wilson, a lecturer in sports business management at Sheffield Hallam University in northern England.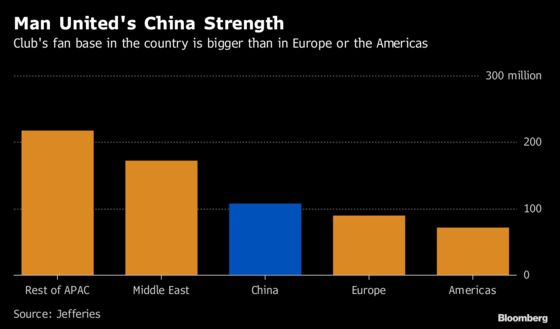 Barcelona unveiled an interactive center in Haikou in November, while Manchester City-owner City Football Group said in September it had become the become the first global soccer organization to open a second hub in China, as it launched a new office in Shenzhen.
Manchester United shares, which are traded in New York, have risen about 11 percent since the ouster of former coach Jose Mourinho on Dec. 18., which followed the club's worst Premier League start in 28 years. The team has won all of the first five games with interim manager Ole Gunnar Solskjaer in charge.