Golden Week Isn't Looking as Prosperous for Macau's Casinos
(Bloomberg) -- Macau's casinos face dimmer prospects for the upcoming Golden Week holiday as the slowing Chinese economy and trade war with the U.S. hang over the world's biggest gambling hub.
About 40 percent of rooms in the territory's 3-to-5-star hotels have been fully booked as of Friday, three days before China's week-long holiday starts, according to online booking websites including Agoda.com and Expedia. That compares with 80 percent at roughly the same time last year. Hotels in Macau, the only place in China where casinos are legal, are charging about double or triple their usual prices, a lower premium than in 2017 when some suites were listed at five times the typical rate.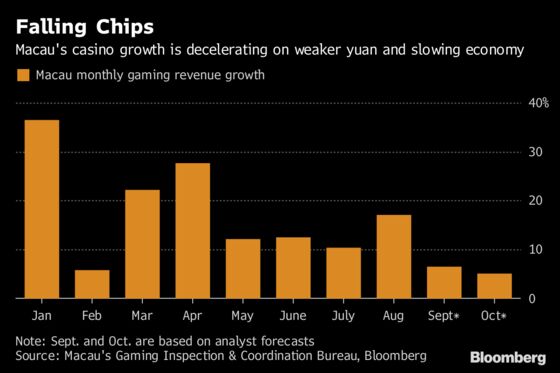 Prices for some of the most expensive rooms last year reached about HK$10,000 ($1,280) a night. This year, a room at the Mandarin Oriental in Macau -- which lies across the water from Hong Kong -- is available for as little as HK$5,300, while the Parisian is showing a rate of as low as HK$2,098.
Macau has seen softening growth in gaming revenue since the second quarter. Analysts have cut their estimates for this year and 2019, as a weakening yuan, China's economic slowdown and escalating trade tensions with the U.S. threaten to derail a two-year rebound in Macau.
"Expectations remain modest for October" as there are worries surrounding macroeconomic factors, said Grant Govertsen, an analyst at Union Gaming Securities Asia Ltd.
Typhoon Mangkhut didn't help. Gaming revenue forecasts for September were cut in half to 6.5 percent, according to a survey of seven analysts by Bloomberg News, after the typhoon ripped through Macau mid-September and forced a 33-hour shutdown of casinos.
If the forecast bears out, it would be the first month since February that gaming growth slowed to single digits. Analysts forecast October will follow the weakening trend with growth of 5 percent.
The Bloomberg Intelligence gauge of Macau casino stocks is down about 35 percent since the end of May on worries that high rollers are easing up on their bets, with Wynn Macau Ltd. and MGM China Holdings Ltd. tumbling more than 40 percent. The index slid 0.6 percent Friday in Hong Kong.
Hopes were much higher ahead of last year's Golden Week. The holiday is considered peak season for Macau, with junkets flush with high rollers and casinos offering new entertainment options. Ironically, the holiday week disappointed investors as fewer-than-expected tourists flocked to the gambling hub, even as the entire month of October turned out to be "stellar," said Govertsen.
On a bright note, the lowered expectations this time around could make room for a positive surprise.
"We think there is upside potential to consensus as this point," said Govertsen.