China's Pig Futures Sink on Debut After Long-Awaited Listing
(Bloomberg) -- China's live hog futures tumbled on their first trading day after a hotly anticipated debut as the industry looks for a safeguard against wild swings triggered by one of the world's worst animal disease outbreaks.
The contract on the Dalian Commodity Exchange slid almost 13% on Friday. The product, some 20 years in the planning, aims to provide a key hedging tool for hog breeders recovering and expanding production after a deadly African swine fever outbreak destroyed local herds and drove prices to a record.
China accounts for almost half of global pork consumption and production with a market value of about 2 trillion yuan ($310 billion). Given the importance of the meat in the Chinese diet and its implications for national food security, the government has moved to modernize hog production, improve quality and cut costs. The African swine fever outbreak in 2018-19 accelerated the push.
The virus wiped out small backyard pig farms and forced a shift toward large-scale operations, which are in a better position to trade the contract and manage their risks. The futures contract, which will be the first product in China to allow deliveries of live animals, will help promote standardization of hog breeds to meet the exchange's delivery rules and specifications.
Futures for September delivery closed at 26,810 yuan a ton, compared with a base price of 30,680 yuan. Prices earlier reached a low of 26,385 yuan. More than 90,000 lots changed hands.
"The trading volume of the live hog futures is expected to be massive, given the relevance of the product to the broader economy," said Li Moyu, a Shanghai-based analyst at Orient Futures, a brokerage. Trading will be dominated by the country's leading producers at the beginning, she said.
Pork prices are a crucial determinant of Chinese consumer inflation, with the two moving almost in lockstep. Last November, the nation posted its first deflation in consumer prices in over a decade as hog prices fell following a rapid recovery in pig numbers. The following month, wholesale pork prices rebounded as demand strengthened ahead of a major holiday season.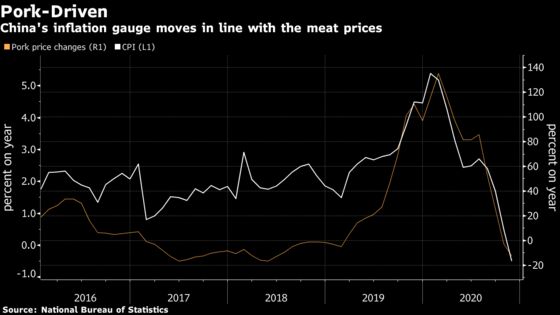 Pigs are also of significance to Chinese culture. They symbolize good fortune and happiness, and feature in the Chinese character for "home," a pictograph of a roof with a pig underneath. Throughout China's history, the pig has been a prized source of meat eaten on ceremonial or sacrificial occasions.
Live hog contracts were first introduced in 1966 on the floor of the Chicago Mercantile Exchange as a physically delivered contract. In 1997, it was converted to its current form of cash settlement. Frozen pork belly futures traded for 50 years before being delisted in 2011. Eight years later, the CME Group began publishing the CME Fresh Bacon Index to provide price transparency for pork packers, processors, wholesalers and retailers.
The contract size in Dalian is 16 tons, which the bourse says is equivalent to the total weight of animals in a full truck, the usual way to transport pigs in China. This will help resolve size differences in pigs.
The exchange has also taken steps to avoid the bouts of manic trading seen on Chinese commodities exchanges in the past, when the nation's hordes of speculators piled in and out of everything from eggs to iron ore.
For the latest contract, DCE has set price limits at 16% for the first trading day and 8% subsequently. It's imposing margin requirements of 8% for clients with hedging needs and 15% for speculative trading during the initial stage.
There's also a cap on open positions, which is designed to stabilize the market and prevent futures from becoming overpriced, said Wang Na, a director of farm goods analytics at Everbright Futures. The size of Dalian's hog futures is larger than other agricultural products in China and the higher margin requirement might discourage trading by retail investors, she said.