Kaisa Bonds Fall After Investor Meetings Canceled This Week
(Bloomberg) -- Chinese property firm Kaisa Group Holdings Ltd. fell further in a volatile credit market after it earlier canceled meetings with some investors that had been scheduled to take place this week. 
The company, which grabbed headlines in 2015 when it became the first developer from China to default on U.S. currency bonds, told the investors earlier this week that meetings were canceled due to a scheduling conflict, people familiar with the matter said. The meetings were to have been at an Asian credit conference organized by Bank of America.
The junk-rated borrower's 6.5% bond due in December fell 6.8 cents on the dollar to 67.9 cents as of 5:02 pm in Hong Kong. They had slumped about 9.3 cents Tuesday, Bloomberg-compiled prices show. It faces a coupon payment on a 2022 dollar note on Friday. 
The market for high-yield dollar bonds in Asia has grown volatile as concerns mount about contagion risks from a debt crisis at property giant China Evergrande Group, the largest issuer of such securities in the region. China's real estate sector has also been stung by a clampdown on excessive borrowing. Home prices fell in September for the first time in six years, while real estate investment slid for the first time since last year.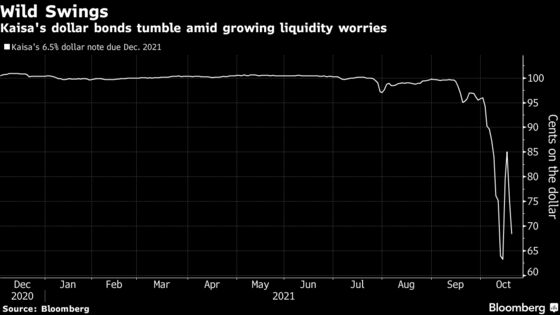 Kaisa still wants to maintain close communication with investors and would try to arrange time with its chief financial officer at the earliest convenience if a call was wanted, said one of the people, who asked not to be identified because the details are private.
The firm is China's 26th biggest property developer by contracted sales as of August, considerably smaller than Evergrande which ranks 3rd. Still, it has about $11.6 billion in outstanding offshore bonds just over half that of Evergrande's. 
There was no immediate response from Kaisa to requests for comment and a call to its investor relations department went unanswered. There was also no immediate comment from Bank of America.