Kaisa Moves Closer to Discussing Financing With Chinese Developer's Bondholders
(Bloomberg) -- An advisor to a group of Kaisa Group Holdings Ltd. bondholders is close to signing non-disclosure agreements with the developer in a move that would pave the way for discussions around a potential financing deal for the beleaguered firm, according to people with knowledge of the matter.   
The creditor group is being advised by Lazard Ltd. An announcement about the agreements could come as early as Thursday morning in Hong Kong, one of the people said. Lazard is seeking more bondholders to join the group. 
A representative for Kaisa didn't immediately respond to a request for comment placed outside of normal business hours.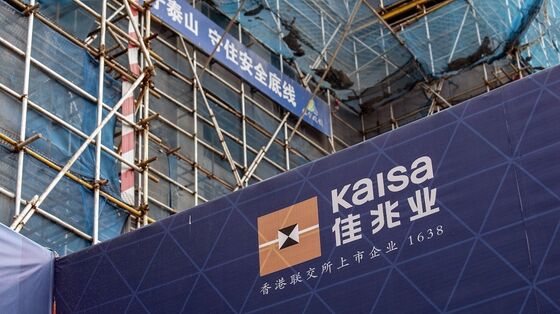 The signing of NDAs is a crucial step as it would allow creditors to access data and information they haven't yet seen. The group has been discussing various potential financing arrangements, including creditors and other lenders providing new money to Kaisa, a separate person with knowledge of the discussions said.
Kaisa's creditors have yet to receive payment on a $400 million dollar bond that matured Tuesday. Fitch Ratings downgraded Kaisa to restricted default Thursday, citing the nonpayment.