Japan, China Defense Ministers Meet for First Time in 3 Years
(Bloomberg) -- The Defense Ministers of China and Japan met for the first time in three years Friday, the Japanese Ministry of Defense said, days ahead of the first bilateral visit by a Japanese prime minister to China in seven years.
Japanese Defense Minister Takeshi Iwaya told his Chinese counterpart Wei Fenghe in a meeting in Singapore that Japan could not accept one-sided attempts to change the status quo in the South China Sea, the Nikkei newspaper reported. Wei responded that there was no threat to freedom of navigation, the paper said, citing a Japanese government source.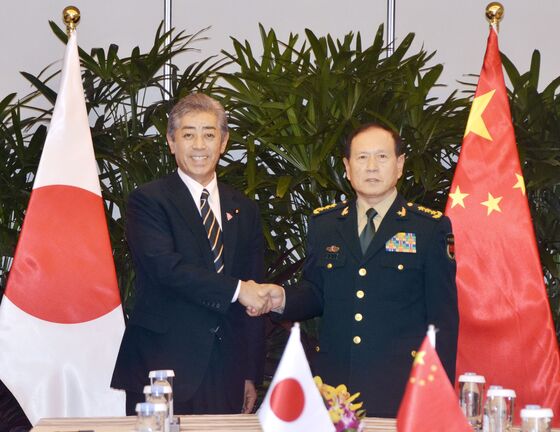 Both ministers agreed on the need to swiftly set up a hot line as part of measures to avoid any unintended clash between the two countries' armed forces, the ministry said on its website. They also agreed to bolster military exchanges.
Japanese Prime Minister Shinzo Abe is set to travel to China from Oct. 25-27 in a visit timed to mark the 40th anniversary of a peace and friendship treaty between the two countries, and is seeking to have President Xi Jinping visit Japan next year. The trip is the latest sign that ties are recovering from a 2012 crisis sparked by an East China Sea territorial dispute.