Iron Ore Tumbles as China Steel Hub Warns Mills to Control Surge
(Bloomberg) -- Iron ore's slump from a record accelerated as China ramps up efforts to control a dizzying surge in prices.
Futures in Dalian dropped the daily limit, while prices in Singapore tumbled 11% as the world's biggest iron ore buyer rolled out more measures to temper recent gains. Tangshan city banned steelmakers from fabricating or spreading price-hike information, the latest in a list of measures targeting the hub, after Premier Li Keqiang earlier this week urged China to deal with surging prices.
"Sentiment is very volatile, and the Chinese government's control is very strict," said Wang Yue, an analyst with Shanghai East Asia Futures Co. "Ferrous metals have been falling since Premier Li pledged to control the commodities surge earlier this week, which showed the government is very much concerned" about the impact on manufacturers' profitability, Wang said.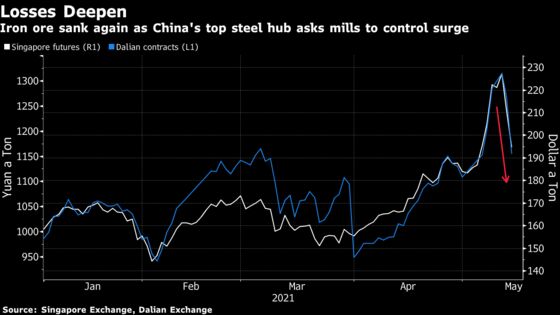 The Tangshan local government vowed to punish violations including price manipulation, and steelmakers were told Friday that they may be suspended from doing business or have their licenses revoked if they break the law. The city, which accounts for 14% of China's steel production, has been at the center of an industry overhaul as authorities unveiled a slew of output restrictions to control emissions.
That saw the market's retreat from historic highs accelerate. Iron ore on the Singapore Exchange sank as much as 11% to $187.10 a ton, before trading at $194.30 by 2:19 p.m. local time. Prices had touched a record $233.75 on Wednesday. Futures in Dalian closed 3.6% lower, extending Thursday's 9% decline.
"Prices have already reached a peak level from a medium- and long-term perspective," Huatai Futures Co. wrote in a note. "Demand for iron ore may soften when output restrictions are implemented under the environmental push."
Steelmakers in China have been ramping up production in defiance of government attempts to rein in output to control the industry's carbon emissions, with robust profit margins enabling mills to accommodate surging input costs.
The government has already scheduled nationwide inspections of steel-capacity cuts, reiterated a commitment to reining in production from last year's record of more than 1 billion tons and set targets for peak carbon emissions.
Authorities had sought to tame a range of markets this week, with Chinese bourses raising trading limits for iron ore and increasing fees for steel and coking coal. The surge across commodities helped push the country's factory-gate prices up by the most since 2017, and inflation concerns are intensifying around the world amid a broad economic recovery and vast stimulus programs.
Shipmakers and household-goods manufacturers will eventually be unable to withstand elevated steel prices, the country's state-run Xinhua News Agency reported, citing analysis from the China Iron & Steel Association. The report said it would be difficult for steel to continue rallying.
Separately, China said it will accelerate the transformation of the power, steel, non-ferrous metal and petrochemical industries to cut emissions, adding that it's targeting seven provinces that saw increasing energy use in the first quarter.
Other industrial commodities declined. Copper in London fell 1.1%, with the market flipping into the widest contango since January in a sign of loosening supply in the near term. Aluminum fell 0.7% and other base metals declined.