In Fight for Survival, China's Dimming Oil Stars Pledge to Unite
(Bloomberg) -- A clutch of oil buyers in the world's top market are facing an existential crisis, forcing them to band together or face the prospect of perishing.
Independent refiners in the eastern Chinese province of Shandong plan to join forces to create three or four mega-projects over the next five years, according to Zhang Liucheng, who heads an alliance of the processors. With a proposed investment of 100 billion yuan ($15 billion), the consolidated plants will have capacity of 20 million tons a year each, and will focus on making more lucrative products like petrochemicals, he said.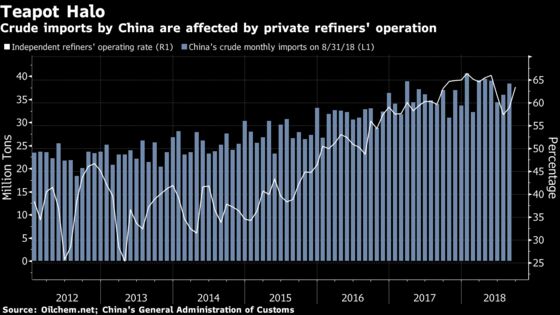 The refiners -- known as teapots -- burst onto the global oil market only a couple of years ago, and helped lift China past the U.S. as the world's largest crude buyer. Now, they're struggling in the face of competition from giant state-backed rivals, stricter tax rules, reduced access to funding and a campaign to cut overcapacity supported by President Xi Jinping. Profits have shrunk, and at least one has gone bust this year.
"The supply-side reform in our industry might happen in second-half 2019," Zhang, General Manager of Shandong Petrochemical & Energy Group, said in reference to the proposed government-backed policy to curb overcapacity. "Some smaller players face the risk of closures," he said during the annual Asia Pacific Petroleum Conference (APPEC) in Singapore this week.
At the previous APPEC, Zhang had announced that his company will team up with an equity fund that's part of the provincial government of the Shandong province and a few other companies to form a $5 billion alliance. The venture even planned to gather more capital. A year on, the industry is being racked with uncertainty about its future.
A deleveraging movement by China's central government has reduced funding to teapots and raised financing costs. Financial risks remain Zhang's biggest concern over the industry, with operating costs rising due to factors including a near 40 percent rally in crude prices in the past year and the closure of a tax loophole that has led to higher levies.
Most of the teapots rely on state-run oil firms to sell to after the central government stopped allowing them to export fuel. Now they are likely to also be hit by a giant refinery run by Hengli Group that will begin supplying large volumes to state-backed companies such as PetroChina Co. and Sinopec from next year, Zhang said. That could reduce procurement from Shandong teapots significantly, he said.
Zhang has high hopes that consolidation will stem the decline of their business. The private processors will move away from their current mainstay of making oil products such as gasoline and diesel, shifting more than 40 percent of their revenue make-up to chemicals including aromatics and olefins, he said.
The teapots that mainly produce oil products have a margin of about 5,600 yuan per ton, compared to an estimated margin of 7,500 yuan per ton for refineries that focus on petrochemicals, Zhang said. Switching will help Shandong teapots catch up with new refineries in China, he added.
The teapots, of which there are now about 40, developed largely without the support of the government in a country dominated by state-backed enterprises. They grew from village-level businesses in the 1990s to become rising stars of China's burgeoning energy industry. For Zhang, who likens the difficult conditions now to when the teapots first started, the threat facing the industry is merely a harsh season waiting to pass.
"Our strength is that we are survivors," Zhang said. "We are children of winter, why would we be afraid of the harsh cold?"