In China, Signs of Intervention and Outflow Emerge as Yuan Drops
(Bloomberg) -- Positions for foreign-exchange purchases on the Chinese central bank's balance sheet last month fell the most since January 2017, reflecting faster capital outflows and more intense official intervention as the yuan weakened.
The stockpile shrank 119.4 billion yuan ($17.2 billion) to 21.4 trillion yuan, according to data released by the People's Bank of China on Thursday. The yuan depreciated more than 8 percent in the six months through September, and hit its lowest since January 2017 on Thursday after the U.S. Treasury stopped short of naming China a currency manipulator in a report overnight.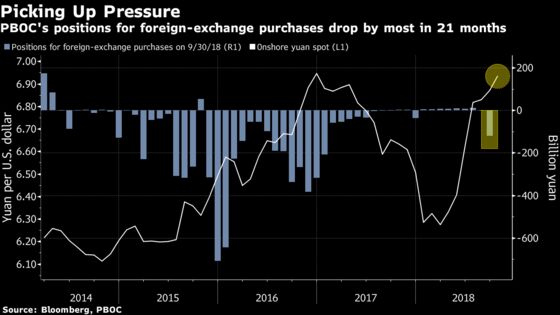 The yuan's decline has reignited debate over whether or when it will break the the key psychological milestone of 7 against the dollar, a level not reached since the global financial crisis.
"The data is a strong signal that China did use some bullets to defend the exchange rate," and that it will attempt to stabilize the yuan before trade negotiations restart, said Ding Shuang, Greater China and North Asia chief economist at Standard Chartered Plc. "Capital outflow pressures will jump if the currency weakens significantly before the end of the year. The yuan will likely break 7 in early 2019."