In China, Less Than 20% Defaulted Bonds Have Been Paid Back
(Bloomberg) -- China's corporate debt market is home to more and more defaults - and if you own one of those bonds, don't expect much back.
That's the conclusion from a Bloomberg News analysis of the 84 publicly-sold notes that have defaulted since 2014. Since China's first company bond collapse in that year, the local market saw a 17 percent repayment rate on 80.3 billion yuan ($12 billion) of missed principal or coupon payments as of Aug. 27, Bloomberg-compiled data show. Globally, senior unsecured bondholders get about half their money returned, according to Moody's Investors Service.
The figures illustrate how China's $11 trillion market is yet to develop mechanisms to price credit risk throughout the life cycle of a bond. Restructuring deals between bondholders and issuers are rare, and defaulted notes don't usually change hands. One catalyst for a payout remains government intervention, yet officials are seeking to stamp out the assumption that those rescues will happen.
"China needs to develop a special market dedicated to trading bonds in default, where pricing and asset evaluation can be done efficiently and fairly," said Li Shuguang, a bankruptcy and debt restructuring researcher at China University of Political Science and Law.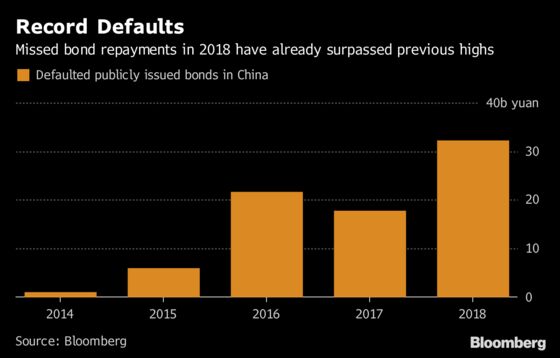 Bondholders made a full recovery on at least 16 securities, of which Inner Mongolia Berun Group Co. and Sichuan Coal Industry Group got government assistance, the data show. On most of the other notes, investors haven't received a cent. The key factors that impact recovery rates are local governments' willingness to assist, physical assets that the borrower owns, and whether it's a publicly traded company because the listing status is valuable, analysts from Orient Securities Co. wrote in a report in April.
"It's very rare to get full repayment on defaulted bonds in overseas markets, and a haircut is usually the case because debt restructuring is more market-oriented with competing interests from other creditors and investors," said Ivan Chung, head of greater China credit and analysis at Moody's. Support from local authorities or a state-owned parent company usually helps the distressed issuer refinance and pay back debt, he said.
Read: China's LGFV Bonds Take Spotlight as Record Maturities Loom
Key facts on defaulted bonds in China, according to data compiled by Bloomberg based on public filings:
• At least 16 out of 84 defaulted bonds that were publicly-sold have been fully repaid
• Firms that have repaid debt took less than a year to address liquidity issues
• Three out of 12 defaulters that fully repaid notes are state-owned enterprises
• At least five out of 33 firms that defaulted on publicly-sold bonds entered a court-mediated reorganization process
China has sought to improve the country's judicial system for dealing with bankruptcies. It's also exploring setting up a platform for anonymous trading of distressed debt to boost investor participation.
READ: China Eyes Anonymous Trading to Boost Distressed Debt Market
Rules currently governing China's interbank bond market, where most of the notes are issued, don't specify if a bond can continue to trade after a default. They only stipulate that secondary trading should end when a bond matures. Whether trading can continue after a default also isn't clear. For bonds traded on Shanghai and Shenzhen bourses, a missed payment results in immediate suspension of secondary trading.
Bankruptcy researcher Li says these measures were put in place to contain risks but "an unexpected number of defaults has prompted regulators to consider ways to revive distressed bonds, including introducing foreign vulture fund mangers to invest in China."
Wu Ge, a partner of Dove Asset Management Co., a firm dedicated to distressed debt investment in China, also said financial regulators recently met some of the country's biggest brokerages and private fund managers to encourage them to invest in low-rated and defaulted bonds. However the government usually steps in and compromises have to be made with local authorities, he said.
Officials in China's Hubei province intervened in Sunshine Kaidi New Energy Group Co.'s default case by asking financial institutions to sign an agreement not to withdraw lending or file lawsuits, 21st Century Business Herald reported citing anonymous sources. The company missed interest payments due June 2 for 1.8 billion yuan bonds, according to disclosure filed to the Shenzhen stock exchange. Phone calls made to Kaidi went unanswered.
Granted, not all companies want to fix their debt woes via government support. Recently, China Energy Reserve & Chemicals Group Co., which defaulted on about $2 billion of offshore bonds in May, proposed a debt repayment plan that offers to pay creditors in full by 2025.
"Many companies have been engaging in talks with bondholders for two or three years without making any solid progress," said Zhang Shuncheng, a Shanghai-based analyst from Fitch Rating. "One main reason is that local government steps in to prevent liquidation request, to avoid instability that can be caused by massive dismissals and business shutdown."
Earlier story: In China, Some Mom-and-Pop Investors Get Bond-Default Bailouts