China Rescue Loops in Top State Bank to Aid Private Firms
(Bloomberg) -- Targeted efforts by China to shore up the finances of cash-squeezed companies took a fresh turn this week, with the biggest state bank throwing a lifeline to a clutch of private firms.
Industrial & Commercial Bank of China Ltd., the nation's largest lender by assets, has expanded a debt-to-equity swap program in wake of a record run of defaults. Shandong Chenming Paper Holdings Ltd. and Eternal Asia Supply Chain Management Ltd. each signed 3 billion yuan ($433 million) of such deals with ICBC, exchange filings showed on Wednesday. Guangdong Liantai Group also announced a similar deal on its website on Tuesday.
China's deleveraging campaign has sent bond failures this year to a historical high of 63.8 billion yuan, according to Bloomberg-compiled data. Signs of more government support have emerged recently amid the destabilising impact from defaults and the equity market slump. The central bank most recently lowered required reserve ratio for some lenders by 1 percentage point, effective from Oct. 15, following a series of measures since July to support the economy.
"ICBC's move can be seen as answering regulators' call to help private sector firms refinance debts and avoid systemic risks, particularly when defaults are mounting," said Richard Zhang, Shanghai-based corporate restructuring partner at global auditing firm EY. "If banks all withdraw credit lines, most of these companies will not survive."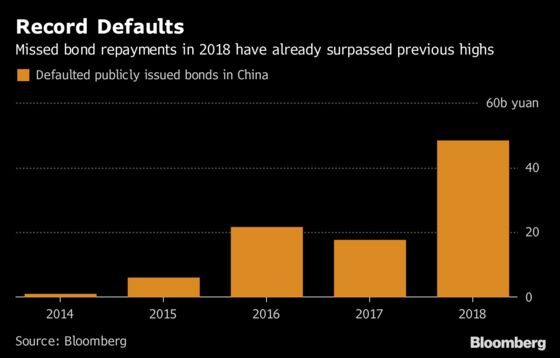 ICBC has signed agreements with 23 private sector companies to provide them greater financial support, Xinhua News Agency reported on Oct. 16. It also said that ICBC agreed to swap debt into equity for Kangmei Industry Investment Holdings, the parent of embattled Kangmei Pharmaceutical Co. whose shares and bonds plunged Wednesday. Chinese energy company GCL Group signed a debt swap deal with ICBC on Tuesday, according to its website.
ICBC and Kangmei Pharmaceutical declined to comment. Calls to Eternal Asia and Guangdong Liantai went unanswered. GCL was not immediately available to comment. An officer at Shandong Chenming said details of the deal with ICBC are under discussion.
China should further study policies to help small- and medium-sized companies cut their tax burden, ease financing difficulties and improve technology innovation, according to a State Council meeting chaired by Vice Premier Liu He on Wednesday.
"Given the high leverage and considerable credit risks in the private sector, debt-equity swaps can help ease their pressure on debt repayment, contributing to the deleveraging in of the real economy, " said Li Qilin, chief economist at Lianxun Securities Co.
China rolled out the debt swap program in 2016 for its corporates to rein in leverage. The idea was that healthy firms would use the program to cut interest-bearing borrowings, while bloated companies would be shunned. But it hasn't always worked out that way as banks had been reluctant to do such transactions and private sector companies were rarely involved in such deals. Click here to read more.
Chinese banks have signed 1.7 trillion yuan of debt-equity swap deals as of September, according to China Banking and Insurance Regulatory Commission.