Huarong Bondholders May Face Significant Losses, NYT Reports
(Bloomberg) -- China is planning an overhaul of China Huarong Asset Management Co. that would inflict "significant losses" on both domestic and foreign bondholders, according to a New York Times report.
Beijing is still in the early stages of the plan, the New York Times said on Tuesday, citing two people familiar with the matter. A timetable for a full overhaul has not yet been set, the report said, and the government is likely to inject some money into a reorganized company.
Representatives for China Huarong didn't immediately reply to a Bloomberg request for comment on the New York Times report.
Investors are scrutinizing China Huarong's local bonds after some notes dropped to record lows in recent days. A bearish shift in sentiment among domestic investors could prompt another selloff in the offshore bonds. Speculation about a potential debt restructuring has swirled since early April after Huarong missed a deadline to report 2020 results.
The bad-debt manager has become a closely watched proxy for China's willingness to backstop government-owned borrowers amid a record wave of corporate defaults. Investors have grown concerned about Huarong's financial health -- and its level of support from Beijing -- after an ill-fated expansion under former Chairman Lai Xiaomin, who was executed for crimes including bribery in January.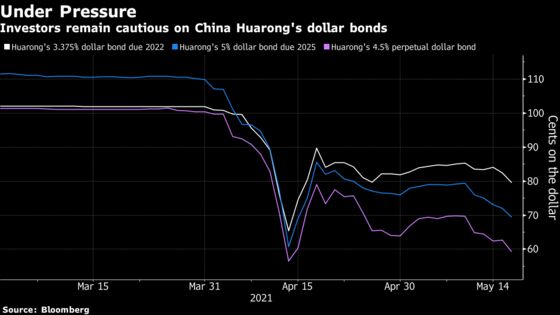 The firm's dollar bonds extended the past week's declines Tuesday, with the 5.5% bond due 2025 dropping 3.3 cents on the dollar to 70.8 cents and its 4.5% perpetual note sliding 3.7 cents to 59 cents, Bloomberg-compiled prices show.
While Huarong's dollar bonds were already pricing in the possibility of losses -- an offshore note maturing Thursday is indicated at about 95 cents on the dollar -- the yuan notes have remained far more resilient. In the domestic market where there is little liquidity, most local bonds are still indicated at about par.
Chinese authorities have largely refrained from publicly commenting on China Huarong, with a drip-feed of media reports instead offering investors a range of potential outcomes for the company's future and the level of state support. People familiar with the matter told Bloomberg News this week that China Huarong has reached funding agreements with state-owned banks to ensure it can repay debt through at least the end of August.
The firm used a loan given by a state-owned bank to repay an offshore bond maturing late April, Bloomberg News reported at the time.