Hong Kong Unemployment Drops in March After Hitting 2004 High
Hong Kong's unemployment rate eased from a 17-year high as the economy emerges slowly from its pandemic slump.
The jobless rate fell to 6.8% in the January-to-March period from 7.2% previously, the first decline since November, according to a government report Thursday. That's better than the 7.1% median forecast in a Bloomberg survey of economists. The underemployment rate also fell to 3.8%.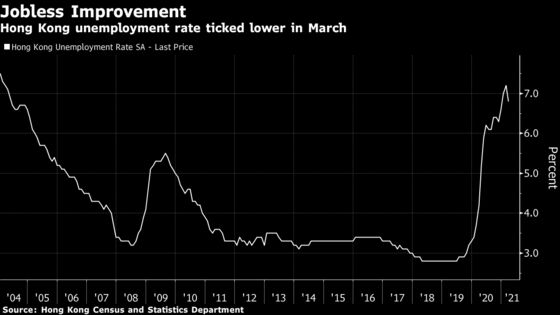 Government officials have hinted at a gradual easing of coronavirus restrictions, which would help spur the economy after an extended recession that began before the pandemic. Hong Kong Chief Executive Carrie Lam told the state broadcaster this week the worst seems to be over, with the economy likely to see growth of about 3% to 5% for the full year.
Challenges remain in combating the virus though, including a population skeptical of vaccinations and continued obstacles in starting up a Hong Kong-Singapore travel bubble. The city also banned flights from India, Pakistan and the Philippines for 14 days earlier this week because of the spread of virus variants.