China Stocks at 4-Year Low, Hong Kong Hit by Typhoon and Trump
(Bloomberg) -- China's benchmark equity gauge fell to its lowest close since 2014, before the market's boom and subsequent bust, while Hong Kong stocks also declined as the U.S. trade dispute and a severe typhoon hurt sentiment.
The Shanghai Composite Index fell 1.1 percent to 2,651.79 points, passing its 2016 post-crash low of 2,655.66. The gauge is one of the worst performing in the world this year, down around 25 percent from a January high, dogged by concern about China's economy and the trade war, among other factors. Hong Kong, which hasn't fared much better, was dealt an extra blow by Typhoon Mangkhut over the weekend, which forced Macau casinos to close and canceled hundreds of flights. The Hang Seng Index lost 1.3 percent.
Donald Trump is still planning to impose tariffs on $200 billion of Chinese goods, according to people familiar with the matter, and CNBC says an announcement could come as soon as today. The news, along with a Wall Street Journal report that China may decline to take part in negotiations, appeared to dent hopes of renewed talks that briefly lifted stocks at the end of last week.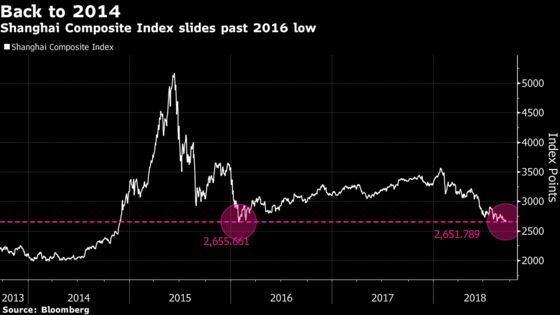 "The market seems a bit concerned about Beijing dropping out of trade negotiations and there's some profit taking pressure following the gains late last week," said Daniel So, a Hong Kong-based strategist with CMB International Securities Ltd. "Investors will likely stay cautious due to uncertainties ahead of the mid-term election in the U.S."
Typhoon Mangkhut, which moved from Hong Kong into Guangdong province Sunday evening, forced the suspension of Macau casino operations over the weekend, prompting analysts to slash their September revenue growth forecasts. A Bloomberg gauge of casino operators slid 2.1 percent in the morning before recovering to rise 0.7 percent at the close. JPMorgan Chase & Co. analyst DS Kim wrote in an earlier note that casino stocks are approaching levels that offer good value.
Airlines were also hit by the typhoon, though they too pared losses as Monday's trading progressed. Cathay Pacific Airways Ltd. dropped 1.8 percent in Hong Kong, Air China Ltd. fell 0.4 percent and China Southern Airlines Co. lost 1.3 percent. China Eastern Airlines Corp. rose 0.9 percent.
Chinese tech giant Tencent Holdings Ltd. was the biggest drag on the Hang Seng Index as it fell 3.3 percent, snapping a three-day run of gains. Large banks also weighed, with China Construction Bank Corp. and Industrial & Commercial Bank of China Ltd. falling 1.5 percent and 1.3 percent, respectively. ICBC was also the main drag on the Shanghai Composite, as its A shares slid 0.9 percent.
Among other sectors, property developers retreated in Hong Kong and the mainland after data Friday raised showed slowing sales along with a pickup in new projects and investment. This could lead to inventory pressure, said Guotai Junan Securities Co. analyst Van Liu, who added policies on the sector will likely be kept tight after home prices rose the fastest in nearly two years last month.