Hong Kong's Year as the Worst Stock Market in Four Charts
(Bloomberg) -- Hong Kong stock investors won't be sorry to see the end of 2021, with the city's main benchmarks racking up the worst losses this year among major global equity indexes.
Hurt by a triple-whammy of Chinese property debt payment fears, weak retail spending and Beijing's corporate crackdowns, the Hang Seng Index is down more than 15% this year. That's its biggest loss in a decade and 2021's worst performance globally after the 24% loss in its sister Hang Seng China Enterprises Index.
Among the worst-hit tech giants, Alibaba Group Holding Ltd. has tumbled about 50%, while Xiaomi Corp. has dropped 45%. Financials have not been spared, with AIA Group Ltd. shares set for their worst year on record.
Here are four charts illustrating the size and scope of the damage:
Hong Kong's woes have come while global stocks have charged ahead this year, riding a tailwind from pandemic easy-money policies and optimism over economic reopenings. The Hang Seng Index is trading at its lowest level relative to the MSCI All Country World Index in over two decades.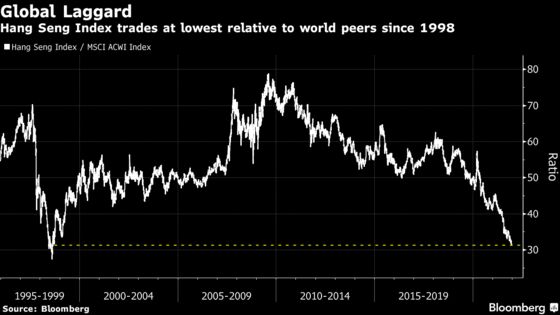 Hong Kong stocks have suffered disproportionately to their mainland peers as well, with the premium of A shares over H shares nearing its highest level in 12 years at 49%. With limited exposure to foreign capital and a tilt away from Internet services, China's stocks have been seen as relatively safer bets than Hong Kong's amid Beijing's clampdown on big tech.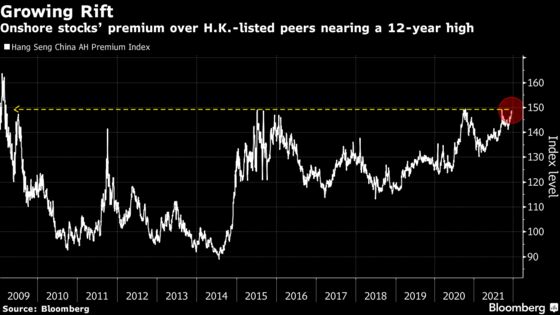 The losses have been the deepest and broadest in the technology sector, with only around 10% of Hang Seng Tech Index stocks still trading above their 200-day moving averages, compared with 80% earlier in the year. The overall gauge's 200-day moving average has been steadily declining since end-July, which is likely to keep momentum traders at a distance for now.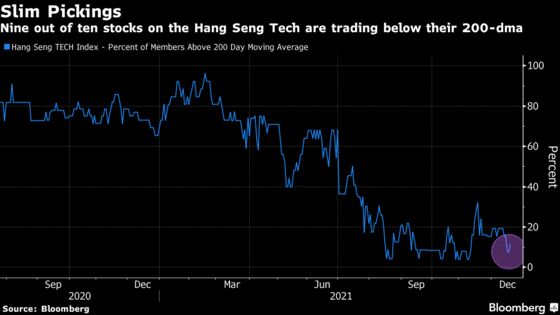 The ongoing major revamp undertaken by Hang Seng earlier this year to diversify and broaden its flagship index has not helped boost its attractiveness. The inclusion of companies that are suffering from weak outlooks including NetEase Inc. and Country Garden Services Holdings Co. has dragged the index's consensus earnings estimate down more than 10% from a peak in May, Bloomberg data show.